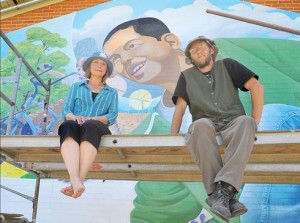 When Arizona introduced its new immigration law, aimed toward battling illegal immigration, its many critics–including President Obama–angrily protested, claiming it was racist (or that it would encourage racism). Arizona Governor Jan Brewer vehemently denied it. Today, Arizona has once again made the news–and once again, it's about racism.
A group of artists who painted a public mural in Prescott, Ariz. has been asked to lighten the faces of the children depicted in the mural. R.E. Wall, director of the Prescott Downtown Mural Project, told the Daily Courier he and the other artists "heard regular racial slurs from the passengers of cars driving by" while they were working on the mural.
The "Go on Green" mural covers two walls outside Miller Valley Elementary School, and it aims to advertise a campaign for environmentally friendly transportation. It features portraits of four children, and a Hispanic boy as the predominant figure.
According to USA Today, Principal Jeff Lane said he asked Wall to make the children's faces appear lighter, but solely for artistic reasons:
"We asked them to fix the shading on the children's faces," he said. "We were looking at it from an artistic view. Nothing at all to do with race."
Furthermore, City Councilman Steve Blair reportedly led a campaign to have the mural removed entirely. According to the Daily Courier, Blair made several controversial remarks on his KYCA radio talk show:
On his May 21 show, for instance, Blair said, "I am not a racist individual, but I will tell you depicting a black guy in the middle of that mural, based upon who's president of the United States today and based upon the history of this community when I grew up, we had four black families – who I have been very good friends with for years – to depict the biggest picture on that building as a black person, I would have to ask the question, 'Why?'"
Blair also said he is not a "a racist by any stretch of the imagination, but whenever people start talking about diversity, it's a word I can't stand."
Under pressure, Wall is altering the mural. But the racial dispute in Arizona, no doubt, is in full swing.
Have a tip we should know? tips@mediaite.com