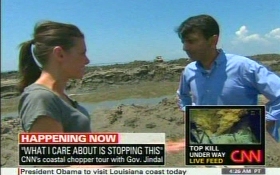 CNN American Morning anchor Kiran Chetry reported live from the Gulf Coast last week (including taking a helicopter ride over the devastation with Gov. Bobby Jindal), and continued coverage of the story this week.
We talked to Chetry today about how the media remains unbiased during tragedies, why the situation is "worse" this week than it was last week, comparisons to Katrina and more.
You can hear the full BlogTalkRadio interview below, which took place this morning. It is part of our new series, "Live From The Spill" – we'll have more coming next week.
Here are a couple key exchanges, with the full interview after:
Mediaite: Do you think politics entering into this type of thing is inevitable?
Chetry: Politics is going to enter in, of course. First of all there's the blame game. Nobody wants to look like they're not in control of the situation. I mean, the Governor needs to look like he's in control, and he seemed to be when he was down there. The local mayor, but of course it gets picked up to the federal level because they are really the point people. The commander of the whole thing, Thad Allen, is with the Coast Guard, is with the White House, is under the federal government.
Mediaite: In the last couple weeks, in a lot of hours, CNN has seen some [ratings] improvements there. Would you say this is one type of coverage CNN does better than the competition?
Chetry: Oh absolutely, without a doubt. And I saw it first hand when I was down there. The infrastructure that is in place at CNN, to be able to tell these types of stories, to be able to be literally everywhere when something like this happens is unbelievable…They just don't spare any expense and nothing is too difficult to do. And we just surround the story. And it is why people come to us for that.
Here's the full interview:

—–
» Follow Steve Krakauer on Twitter
Have a tip we should know? tips@mediaite.com