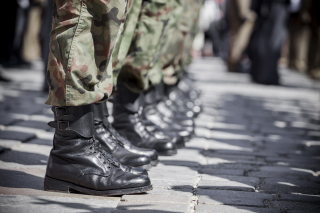 Just as two separate bills that address the issue of sexual assault in the military are set to be voted on in the Senate today, allegations against an Army lawyer in charge of prosecuting such assaults illustrates just how byzantine and troublesome the structural apparatus for dealing with this very real problem is.
As Stars and Stripes reports, Lt. Col. Joseph "Jay" Morse, supervisors for the Army's special victim prosecutors, has been suspended after allegations surfaced that he himself groped a lawyer under his supervision. At a legal conference on sexual assault.
Not good.
Sources told Stars and Stripes that the female Army lawyer alleged that Morse attempted to kiss and grope her against her will. The alleged assault reportedly took place in a hotel room at a 2011 sexual assault legal conference attended by special victims prosecutors in Alexandria, Va., before he was appointed as chief of the Trial Counsel Assistance Program.

An Army official who was not authorized to speak publicly about the matter confirmed an investigation was under way.

"We can confirm that this matter is currently under investigation and that the individual in question has been suspended from duties pending the outcome of the investigation," the official said. "Given that this is still an open case, we are precluded from providing any additional information at this point."
If this story sounds familiar, it's because last year an Air Force officer in charge of their Sexual Assault Prevention and Response Program was himself arrested for sexual battery. Meanwhile Army Brigadier Gen. Jeffrey Sinclair is currently facing a court martial for serious sexual abuse charges that could result in sentence of life in prison.
The Department of Defense says that there were 26,000 instances of sexual assault in the military over the course of the last year, a number that may be a low estimate.
Of the two Senate bills up for vote today, Sen. Kirsten E. Gillibrand is more aggressive than Senator Claire McCaskill's in its attempts to curtail some of the self-review process in these types of situations in the military. It's not expected that Gillibrand's bill will be able to muser the necessary votes to prevent a filibuster. As the New York Times reports, Gillibrand's bill "would take sexual assault cases outside the military chain of command and give military prosecutors, rather than accusers' commanders, the power to decide which cases to try. Top Pentagon leaders oppose the measure, arguing that stripping them of jurisdiction over criminal cases would disrupt discipline and undermine their authority."
Cases like the one involving Lt. Morse remind us that there are plenty of instances where that authority needs undermining.
UPDATE: Gillibrand's vote has been rejected.
[Image via Shutterstock]
— —
>> Luke O'Neil is a journalist and blogger in Boston. Follow him on Twitter (@lukeoneil47).
Have a tip we should know? tips@mediaite.com