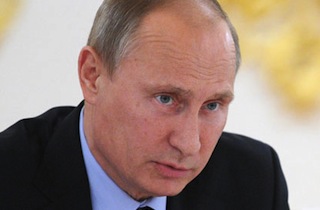 While we're watching the Crimea chaos and Vladimir Putin get accused of being a 21st-century Hitler, let us take this opportunity to make your heads explode: Numerous sources are reporting that Putin, a man who is literally putting battleships and soldiers in a foreign country with the express intention of invading it, is on the list of this year's Nobel Peace Prize nominees.
Yeah, WE KNOW.
Although the Nobel committee itself cannot confirm who is on the nominees list, people eligible to submit nominations are allowed to publicly discuss their choices. A report in the Independent from October of 2013 noted that the International Academy of Spiritual Unity and Cooperation of Peoples of the World, an advocacy group led by a Russian MP and approved to nominate potential Nobel laureates, submitted Putin's name in recognition of his "efforts to prevent a US air strike on the Syrian regime following a chemical gas attack in August."
Which would be great and all if he wasn't trying to invade a country right now.
Thankfully, the Nobel Committee made explicit today that their decision-making process would "take into account recent events, and committee members [would] try to anticipate what could be the potential developments in political hotspots," according to a spokesman. Currently, the committee has a record 278 candidates to consider, and will reveal their top twelve finalists in April, if World War III does not destroy the Eastern hemisphere first.
Putin joins a pool that includes Malala Yousafzai and Pope Francis. We'll let that sink in.
Though he's unlikely to win, given, you know, the Ukraine, Putin joins a distinguished group of assholes nominated for Nobel Peace Prizes, including Josef Stalin and his spiritual Anschluss bro Adolf Hitler. (Neither won.)
[h/t The New York Post]
— —
>> Follow Tina Nguyen (@Tina_Nguyen) on Twitter
Have a tip we should know? tips@mediaite.com