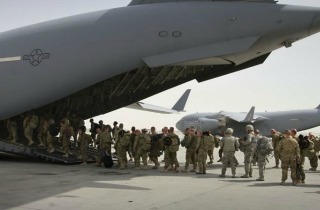 When the Berlin Wall came down in 1989 and the Warsaw Pact dissolved, America's forward positioning and nearly 700,000 strong Army became instantly anachronistic. In 1990 – 1996, Congress passed measures designed to facilitate a drawdown of American forces in accord with a new peace. In spite of the fact that the world has grown more dangerous in the intervening decades, those incentives to facilitate the reduction in America's armed forces personnel, which expired in 1996, were reinstated in 2012.
On Monday, the Pentagon announced a dramatic reduction in Army personnel to levels not seen since before the Japanese attack on Pearl Harbor. These reductions are not being made to account for reduced threats abroad. Instead, they are being made in spite of the numerous and increasing threats to American interests.
The Army had planned to reduce troops levels to 490,000 by the end of 2017 but accelerated that planned reduction so that it would be completed by the end of 2015 late last year. Monday's announcement further accelerated that drawdown and aimed to reduce troop levels to approximately 440,000. The Pentagon further announced that it would retire weapons platforms like the A-10 "warthog" fighter plane and the U-2 spy plane and reduce benefits available to military personnel and their families, though they would keep the bloated F-35 fighter plane program rolling along.
Supporters of the planned force reduction defend the move by saying that the United States no longer has the need or desire to conduct protracted ground wars like those in Iraq and Afghanistan. Instead, the military will focus on maintaining forces that are more nimble and can quickly project limited power into volatile regions.
RELATED: Hagel: American Military Dominance 'Can No Longer Be Taken for Granted'
This shortsightedness sounds familiar to Max Boot who, writing in Commentary on Tuesday, recalled how history is littered with examples of cautious and sober men convincing themselves that a new era was upon them and mankind had evolved beyond conventional land wars.
"If history teaches anything, it is that the era of land wars is not over and that we will pay a heavy price in the future for our unpreparedness–as we have paid in blood at the beginning of every major war in American history," he wrote. "Throughout history, supposedly enlightened elites have been able to convince themselves that the era of conflict is over and a new age is dawning. The fact that they have always been wrong before does not, somehow, lead them to question those assumptions in the present day, because this is such a convenient belief to have."
And history feels set to make a comeback in a big way.
While America draws its forces down amid a policy of retrenchment, the People's Republic of China is modernizing its maritime and paramilitary forces. Furthermore, Beijing is flexing its muscles in its neighborhood and is only one miscalculation away from drawing the United States into a regional conflict.
"Oil survey ships operating in [Philippines territory of] Reed Bank under contract have increasingly been harassed by Chinese vessels," reads a recent Council on Foreign Relations strategic memo. "The Philippines lodged a formal protest with Beijing Tuesday after a Chinese law enforcement vessel blasted two Filipino fishing boats with water cannons in a disputed area of the South China Sea," the Wall Street Journal reported on Tuesday, noting that the United States has a mutual protection treaty with that Pacific nation.
Following the deposition of Russian-backed Viktor Yanukovich in Ukraine, the Russian Federation has reportedly deployed warships and troops to the Crimean peninsula – a Ukrainian territory that is home to the largest Russian naval base on the Black Sea coast. The Crimean people and separatist parliamentary ministers are actively flirting with annexation into the Russian Federation, a move which expressly violates treaties that both Moscow and the West have guaranteed for decades and would be resisted by NATO and Kiev.
Speaking on the Senate floor on Tuesday, Sen. Marco Rubio (R-FL) observed that the Cuban government is actively facilitating the destabilization of Latin America by propping up the "thugs" in Venezuela who are repressing and murdering dissenters. Cuba was recently caught exporting weapons to North Korea in express violation of United Nations-imposed embargoes on that murderous state, a move which will almost certainly not result in any action by the facile U.N.
In spite of the White House's assertions to the contrary, the Islamic Republic of Iran continues to enrich uranium with the aim of creating a fissionable device – a move that Israel has intimated they will not permit. The civil war in Syria continues to spill over its border, exporting violence and refugees into its already unstable neighbors. And there remains the ever present threat to the American homeland posed by non-state actors, any of whom could execute a successful strike on the homeland which would necessitate a military response.
Announcing the new force reduction strategy, Defense Sec. Chuck Hagel warned the public that American troops will incur "additional risks" in the future when they encounter a well-prepared enemy threat. "The development and proliferation of more advanced military technology of other nations – it means that we are entering an area where American dominance in the seas, in the sky, and space can no longer be taken for granted," he announced.
America's enemies have been counting on that.
[Photo via AP]
— —
> >Follow Noah Rothman (@NoahCRothman) on Twitter
Have a tip we should know? tips@mediaite.com