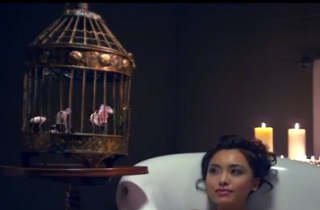 There's a band called Day Above Ground that has released a music video that the internet is calling variations on the theme "Most Racist Music Video Ever," but the song Asian Girlz gives its own 11 on the RAF scale racism a run for the money with a misogynist streak you could drive a truck through. With lyrics that could have been written by the cast of this year's Big Brother, and a video that seems to have sprung from the imagination of a fourteen year-old serial-rapist-in-training. The band, of course, insists they're not racist:
This is Day Above Ground reposting this video with a new description as a response to all the comments we received on this video. We appreciate all the criticism and support. Our song "Asian Girlz" was not written with any malicious, hateful, or hurtful intent. We know it is racy and does push the boundaries further than other songs out there. Understand that we do not promote or support racism or violence. We love everyone no matter what race, religion, or sexual orientation. Please respect our decision to delete any violent, insensitive, or hurtful comment and also one that supports racism. We hope that we can continue with our lives with much love and peace.
With lyrics like "I love your creamy yellow thighs/Ooh you're slanted eyes/It's the Year of the Dragon/Ninja pussy I'm stabbin'," you have to wonder just how racist and violent a comment would have to be for these guys to delete it.
The blog Afternoonsnoozebutton notes:
They're booked to play at the House of Blues Sunset Strip on August 10th. If you're as pissed off about this as I am, I'd suggest posting on the House of Blues FB page here urging them to cancel this shitty racist performance.
However, according to the band's website, Asian Girlz isn't just a part of that House of Blues show, it's the main attraction:
House of Blues, Sunset Strip

Aug, 10 08:00 PM

This is a big one.. "Asian Girlz" will be played up on the huge projection screen in front of the mainstage in Hollywood! A huge premiere on whats going to be an awseome night.. don't miss it!
The group also claims, among its influences, a band called "Led Zepplin." Robret Plnat and Jimmy Paeg should sue.
Here's the video, if you can stomach it. The singing is as tone-deaf as everything else about this song (WARNING: VERY NSFW):
Have a tip we should know? tips@mediaite.com