Dispatches From The 'War On Women': New Abortion Laws Preferred Over Sexual Abuse, Being Called 'C**t'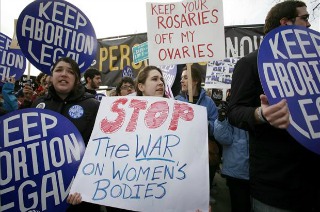 Following a rash of prominent Democratic politicians being implicated in scandals surrounding their abusive treatment of women, many left-leaning media outlets have steered clear of the now messy "war on women" meme. With the return of Democrats like unindicted patron of prostitutes, Eliot Spitzer, and serial sexter, Anthony Weiner, and the explosive revelations surrounding former congressman and San Diego Mayor Bob Filner's abuse of his female colleagues, the so-called "war" on the nation's women has altogether stopped being an exclusively Republican problem. But the collapse of a once-resonant "war on women" theme Democrats employed skillfully last year was presaged weeks ago. As Republican candidates like Todd Akin and Richard Mourdock disappeared from the political scene, the issues which liberals sought to portray as infringements on the sacred rights of women became the political media's focus. And guess what? It turns out that women don't seem to think those issues are nearly as appalling as Democrats had hoped.

While most media outlets have abandoned the "war on women" since it has become impossible to depict conservatives as the enemy of an entire gender, one intrepid broadcaster endeavors to keep the dream alive.
During his Tuesday program, MSNBC host Martin Bashir and his guests did their best to undercut the budding narrative that maybe Democrats have a few "war" criminals in their midst.
BuzzFeed reporter McKay Coppins laughed off the notion that Filner, and his years-old habit of sexually abusing his female staffers, could be lumped together with the scandalous Weiner and Spitzer to comprise some sort of coherent Democratic "war on women."
"You see the Republican Party out there trying really hard to push this idea — this is the real war on women, right?" Coppins told Bashir dismissively. "That will Mayor Filner out in San Diego and Anthony Weiner and Eliot Spitzer somehow together somehow comprise this war on women. I don't see that will really getting a lot of traction outside of Washington."
In fairness to Coppins, he made this observation before Filner's eighth victim came forward last night and Weiner's campaign manager was quoted calling a disloyal former female intern a "cunt," a "twat," and a "slutbag." Perhaps his political diagnosis has changed in the interim… Perhaps.
Bashir continued his effort to preemptively defuse the sexist time bomb with which Democrats must now contend. Bashir tackled the abusive Democrats head-on, observing that the acts committed by these politicians – all of whom are either still in office or still seeking office – are indicative of their flaws of character rather than ideology.
Bashir then invited NARAL Pro-Choice America spokesperson Ilyse Hogue on his program where she said that it is Republicans, like those in Texas who support a ban on abortions after 20 weeks into a pregnancy, that are truly dehumanizing the female gender en mass.
But a recent Washington Post/ABC News poll of Americans showed that a majority of adults support laws reducing the legal period a woman can receive a voluntary abortion from 24 weeks to 20 weeks. 56 percent of adults support that law and a full 60 percent of women support restricting abortion procedures to the 20 week mark.
Of course, to accuse the Democratic Party in whole of waging a fictitious "war on women" makes about as much sense as accusing Republicans of doing so. It is laughable nonsense, though the press did not regard this tactic as being so absurd when the presidency was on the line.
But an increasing number of women seem to view the central tenets of the Republicans' so-called "war" as being acceptable or even desirable policy objectives. In contrast, few women seem to approve of being degraded in the media or sexually abused on the job by Democrats. Go figure?
> >Follow Noah Rothman (@NoahCRothman) on Twitter
Have a tip we should know? tips@mediaite.com