Associated Press Backtracks, Deletes Tweet Criticized For Translating 'Allahu Akbar'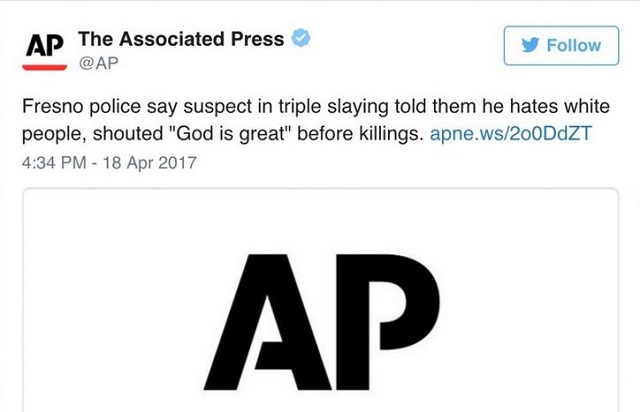 On Wednesday, the Associated Press deleted a Tweet it had posted on Tuesday about the mass shootings in Fresno, California. The move cane in response to conservative users of the social media site ripping the wire service over its translation of the well-known Islamic prayer, "Allahu akbar" — without mentioning that that the perpetrator said it in Arabic (screengrab of the deleted Tweet is above).
The AP posted Tweets which announced its decision to delete the original post and its revised version.
We deleted a tweet about a Fresno slaying suspect shouting "God is great." It failed to note he said it in Arabic. A new tweet is upcoming.

— The Associated Press (@AP) April 19, 2017
Fresno police: Slaying suspect told them he hates white people, shouted "God is great" in Arabic before killings. https://t.co/H6KVWddkev

— The Associated Press (@AP) April 19, 2017
The press agency's decision to omit any mention of Arabic in its original Twitter post was odd, given the fact that their Tuesday report on the Fresno murders twice mentions "Allahu Akbar." The first reference came in the third paragraph. The Arabic phrase also came up later, as the AP detailed his troubling social media posts.
On what appeared to be Muhammad's Facebook page, he repeatedly posted "#LetBlackPeopleGo" and encouraged "black warriors" to "mount up." A flurry of posts emerged in the past day. He…also posted about "white devils." On several occasions, he wrote updates that included the phrase "Allahu Akbar," meaning "God is great" in Arabic.
[image via screengrab]
Have a tip we should know? tips@mediaite.com