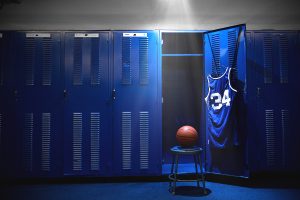 Professional athletes have taken issue with Trump using the excuse of "locker room banter" to describe his "grab 'em by the pussy" comments.
Shortly after audio leaked on Friday of Trump speaking in 2005 candidly about pursuing married women and grabbing and kissing women without consent, Trump released a statement calling the recorded comments "locker room banter" from a "private conversation."
The AP reports that several professional athletes have used social media to rebuke Trump's use of the "locker room" to defend himself.
"As an athlete, I've been in locker rooms my entire adult life and uh, that's not locker room talk," Oakland A's pitcher Sean Doolittle wrote.
"Have I been in every locker room? No. But the guys I know and respect don't talk like that. They talk about girls but not like that. Period." wrote Chris Conley, receiver for the Kansas City Chiefs.
Atlanta Falcons' Jason Tamme averred, "It's not normal. And even if it were normal, it's not right."
Former NFLer Chris Kluwe penned an entire open letter, published Wednesday in Vox, excoriating Trump. He wrote in part:
I was in an NFL locker room for eight years, the very definition of the macho, alpha male environment you're so feebly trying to evoke to protect yourself, and not once did anyone approach your breathtaking depths of arrogant imbecility. Oh, sure, we had some dumb guys, and some guys I wouldn't want to hang out with on any sort of regular basis, but we never had anyone say anything as foul and demeaning as you did on that tape, and, hell, I played a couple years with a guy who later turned out to be a serial rapist. Even he never talked like that.

Now, Donald, I'm sure you're wondering just what it is we talk about in a professional locker room, if we don't spend all our time regarding 50 percent of the population as mobile fuck receptacles eagerly awaiting our tiny-handed grasp on their love lapels. I shall educate you!
During the debate Sunday night, Trump affirmed that it was still "locker room" talk.
—
This post has been updated to include Kluwe's letter.
[image: Brocreative via shutterstock.com]
Sam Reisman (@thericeman) is a staff editor at Mediaite.
Have a tip we should know? tips@mediaite.com