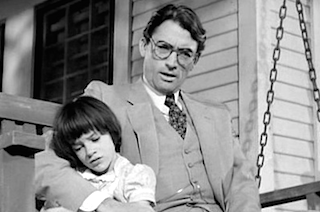 As written by Harper Lee in the 1960 classic To Kill a Mockingbird
and iconically portrayed by Gregory Peck in the film version two years later, Atticus Finch is the embodiment tolerance. But in Lee's highly-anticipated — and viciously contested — follow-up Go Set a Watchman
, which was written years before Mockingbird but takes place after the events of the original book, Finch is apparently a massive racist.
That is the major revelation from Michiko Kakutani's New York Times review of the new book, which will be officially released next Tuesday. "Shockingly," the reviewer writes, "Atticus is a racist who once attended a Klan meeting, who says things like 'the Negroes down here are still in their childhood as a people.' Or asks his daughter: 'Do you want Negroes by the carload in our schools and churches and theaters? Do you want them in our world?'"
After this book was rejected by Lee's publishers, who urged her to write about her protagonist Scout as a child in the 1930s as opposed to an adult in the 1950s, the author went back and transformed the story into the classic as we know it today, removing the "racist" attitudes of the father character. Is it these uncharacteristic views that made Lee sit on the unpublished manuscript for six decades?
Or, as Kakutani asks, "How did a lumpy tale about a young woman's grief over her discovery of her father's bigoted views evolve into a classic coming-of-age story about two children and their devoted widower father?"
"How did a distressing narrative filled with characters spouting hate speech (from the casually patronizing to the disgustingly grotesque — and presumably meant to capture the extreme prejudice that could exist in small towns in the Deep South in the 1950s) mutate into a redemptive novel associated with the civil rights movement, hailed, in the words of the former civil rights activist and congressman Andrew Young, for giving us 'a sense of emerging humanism and decency'?" she continues. "How did a story about the discovery of evil views in a revered parent turn into a universal parable about the loss of innocence?"
Read the full review at nytimes.com (or just read the book everyone will be talking about
as of next week).
[Photo via screengrab]
— —
>> Follow Matt Wilstein (@TheMattWilstein) on Twitter
Have a tip we should know? tips@mediaite.com