Potato-Salad Man Gets Kicked Off Kickstarter For His New Campaign to Give Us 'Jet Skis'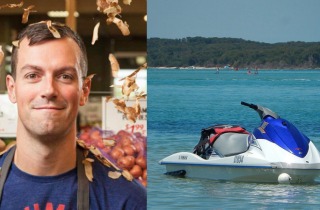 The Internet is a wild frontier where things aren't always what they seem, and where the random, the unpredictable and the irrational take form within reality. One such thing happened in 2014 when Zack "Danger" Brown set up a prank campaign on Kickstarter to get $10 so he could make a bowl of potato salad, and ended up crowd funding more than $55,000.
On Wednesday, Brown decided to start a new joke campaign titled "A Jet Ski", asking the Internet to help him raise money for what he describes as an art project that will allow him to give a jet ski to every donor. There's a few catches though: donors will only get part of a jet ski, and it will come in powder form.
Donor perks range from T-shirts to rides on the actual jet ski (that they'll have to come to collect), but Brown described how he's interested in disassembling and crushing a jet ski in in a similar format to "Will it Blend." As for why a jet ski, Brown said it was because "it's easier to distribute once you've made it into powder."
Kickstarter initially approved Brown's campaign, but later rejected it on the grounds that "projects must be honest and clearly presented." The indications suggest that Brown's idea of distributing powdered remains instead of actual would lead to problematic misleading.
Brown plans to re-launch the project on Indiegogo, but said he was disappointed by the site's decision. "I'll be pro-Kickstarter forever, but this decision makes me sad," Brown said. "It's a boring decision and I don't typically think of Kickstarter as being a boring company."
[h/t Daily Dot]
[Image via Twitter]
Have a tip we should know? tips@mediaite.com