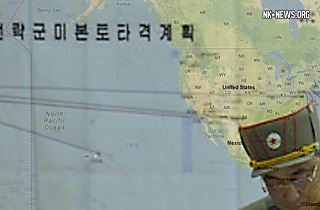 A map in Kim Jong-Un's North Korean war room shows a map of the US mainland with targets for missile strikes like Hawaii, Los Angeles, Washington, DC and, um, Austin. Yeah, Austin. Seriously.
If you're a crazy mad dictator, attacks on places of military importance like Hawaii make sense. An attack on an important center of commerce like Los Angeles makes sense. Disrupting order in the nation's capital makes even more sense but bombing the home of the South by Southwest conference?
Austin residents are baffled by the news that their city is on the kill list of the reclusive North Korean communist. One resident told the Fort Worth Star-Telegram that Kim must want to "wreck a couple of music festivals."
Austin Mayor Lee Leffingwell has said that the local authorities are watching the situation closely but "they do not believe the threats are credible at this time."
A foreign affairs expert at the University of Texas downplayed the concerns about an attack on Austin saying that though the choice of Austin is surprising the threat isn't from North Korea isn't very real.
"They have no serious threatening capability to the United States' mainland," said Jeremi Suri, Mack Brown Distinguished Chair for Leadership in Global Affairs at the University of Texas.
The choice of Austin isn't totally surprising though because of its place as a major cultural hub and the presence of a company with deep South Korean ties, Samsung, says Suri.
"Austin has a lot of international cache. It's seen as a center of music, as a center of exciting technology, and they want to show they can threaten that. They want to show that they can do something to get attention," said Suri.
Watch clip below via KVUE
Have a tip we should know? tips@mediaite.com