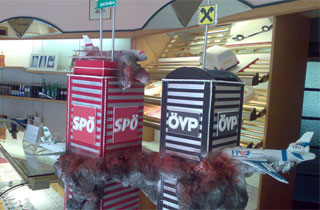 It's been 14 years since the terrorist attacks of 9/11, and according to an Austrian baker, it's now appropriate to turn the iconic Twin Towers into a cake, plane crashes included, as some sort of bizarre political commentary/publicity stunt.
"My customers have predominantly reacted positively to my latest creation," Thomas Kienbauer, the baker of the Café Konditorei Alexander, told The Washington Post. But while he said he understood the "sensitivity" of 9/11 and "certainly did not want to ridicule the tragedy," Kienbauer asserted that the cake — with each tower labeled with the names of Austria's two major political parties, and each plane labeled with the names of two upstart parties — needed some context.
Sure. Okay. Please, Kienbauer, explain your… metaphor:
"Austrian politics has been dominated by two big parties for years. The Twin Towers represent their supremacy which is hard to damage. However, times have never been better to shake Austrian politics up and to stop a series of wrong decisions," Kienbauer said, before adding that it was possible to achieve "a wonder" and to destroy the main parties' superiority.

"I acknowledge that my portrayal of the situation is dramatic. However, to encapsulate the implications one is forced to depict them dramatically and to exaggerate," Kienbauer told The Post.

One smaller building displays a sign reading "justice," which seems to suggest that Kienbauer considers the two Austrian parties and the justice system to be corrupt. Austria's business sector is also part of the cake: The logos of a bank and a real estate enterprise are attached on top of the towers.
Oh, we see! And the black cotton candy represents the death of taste!
[h/t Gawker]
[Image via Thomas Kienbauer]
—
>> Follow Tina Nguyen (@Tina_Nguyen) on Twitter
Have a tip we should know? tips@mediaite.com