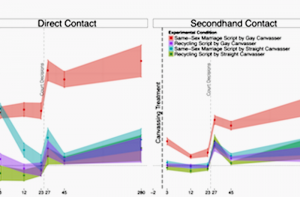 A study purporting to show that even brief contact with gay individuals could change voters' minds on same-sex marriage has been retracted after one of the authors acknowledged the use of phony data.
The study, by Columbia University professor Donald Green and then-UCLA graduate student Michael LaCour, was widely covered upon its publication in Science last December and led to headlines like "A 20-Minute Chat With a Gay Person Made People Much More Supportive of Gay Marriage" and "How to change a person's mind on a divisive social issue in 22 minutes."
But in a letter to Science requesting a retraction, Green said LaCour faked much if not all of the data. According to Retraction Watch, the study began unraveling when a pair of graduate students at UC Berkeley were unable to replicate the results. The students contacted a survey firm reportedly used by LaCour; the firm said it had never heard of the project and wouldn't have been able to undertake such a study.
The pair brought their concerns to Green's attention, who investigated and found more problems. At that point he confronted LaCour, who "confessed to falsely describing at least some of the details of the data collection." UCLA was unable to find any of the primary data LaCour had supposedly collected, or even find evidence that he had used funding to conduct the surveys in the first place.
Green said he had initially been skeptical of LaCour's idea for the study but became convinced when LaCour was able to replicate the findings. However, Green also distanced himself from the primary data, saying he helped LaCour primarily with the statistical analysis.
"I am deeply embarrassed by this turn of events and apologize to the editors, reviewers, and readers of Science," Green wrote in his letter.
Per Retraction Watch, LaCour's website listed him as slated to begin an assistant professorship at Princeton University next month, a mention that has disappeared in the last 24 hours.
[h/t Retraction Watch / Politico]
[Image via Michael LaCour]
——
>> Follow Evan McMurry (@evanmcmurry) on Twitter
Have a tip we should know? tips@mediaite.com