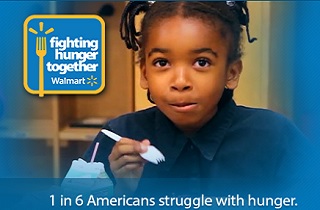 Walmart has long been a lightning rod for criticism in the debate over a variety of economic issues, and a symbol of a low-wage economy that forces taxpayers to kick in for cheap labor in the form of public assistance for the working poor. One Cleveland-area Walmart has become the focal point of criticism over their decision to run a food drive for their own company's associates, setting up plastic bins that implore customers to "Please Donate Food Items Here, so Associates in Need Can Enjoy Thanksgiving Dinner."
From ThinkProgress:
A Walmart in northeast Ohio is holding a holiday canned food drive — for its own underpaid employees. "Please Donate Food Items Here, so Associates in Need Can Enjoy Thanksgiving Dinner," a sign reads in the employee lounge of a Canton-area Walmart.

Kory Lundberg, a Walmart spokesman, says the drive is a positive thing. "This is part of the company's culture to rally around associates and take care of them when they face extreme hardships," he said. Indeed, Lundberg is correct that it's commendable to make an effort to help out those who are in need, especially during the holidays.

But the need for a food drive illustrates how difficult it is for Walmart workers to get by on its notoriously low pay. The company has long been plagued by charges that it doesn't pay its employees a real living wage. In fact, Walmart's President and CEO, Bill Simon, recently estimated that the majority of its one million associates make less than $25,000 per year, just above the federal poverty line of $23,550 for a family of four. When the Washington DC city council passed a living wage bill requiring Walmart to pay workers a minimum of $12.50 per hour, the chain threatened to shut down its new stores if Mayor Vincent Gray didn't veto the bill. Gray vetoed the bill.
The food drive is catching hell all around the liber-O-sphere, but the real problem here isn't the actions of this one store, but the company's clanging response. The company runs its own anti-hunger campaign, of which it boasts:
Our associates also are invested in the work to fight child hunger one kid at a time. In 2012, Walmart associates assembled 3,000 hunger relief packages and donated them to a local food bank, providing meals for thousands of children in local schools.

To date, "Fighting Hunger Together" has provided more than $122 million in grants and 594 million pounds of food to communities. By 2015, we will donate more than 1.1 billion pounds of food from Walmart stores, distribution centers and Sam's Club locations, valued at $1.75 billion, awarded $250 million in grants to support hunger relief organizations at the local, state and national levels, and collaborate with government, food manufacturers, other foundations and corporations to better understand and fight the issue of hunger in America.
That's great, and all, but why not peel off some of that to help their own employees? Or, failing that, maybe when you run a food drive at your food store for your own employees, you sell the donor food at cost? It is admirable what these store employees are doing for their own, but also kind of sickening that the donated food is still being sold at a profit.
As for outraged liberals, we will all have to wait and see if the result of said outrage is an end to low wages, or an end to this food drive.
[photo via Walmart.com]
Have a tip we should know? [email protected]