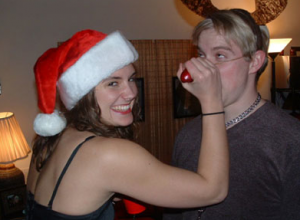 Remember Krystal Ball? She's the Democrat who ran for Senate in Virginia last year whose campaign was partially derailed by photos taken six years earlier at a holiday party showing Ball dressed as a "naughty Santa" sucking a body-part-shaped plastic toy. Not the best way to get national media attention, and she sure knows where Rep. Anthony Weiner's coming from as he expresses–early and often–frustration about being kept from his work by questions about the packed underwear picture that emerged from his Twitter account. "I want to offer Rep. Anthony Weiner some advice," Ball writes today in the National Journal. "Get it all out. Everything. All at once."
Ball argues, as other campaign strategists have, that the only way to avoid the dreaded "death by a thousand cuts" is to rip that Band-Aid off once and for all:
Answer every question that is remotely related to the issue from every legitimate, non-tabloid news outlet. Don't hide, don't obfuscate, don't duck, don't use euphemism, don't try to preserve your dignity by asserting the undignified and trivial nature of the controversy itself.

When you resist the scrutiny, you magnify the underlying embarrassment of the photo and you bring into question your own candor and forthrightness, and that is fair game. Let the media savage you a little bit. Your dignity gets a bit ruffled, but the storm blows over and people know that you don't duck and hide.
Ball, who didn't hide from her awkward photos, calling the furor sexist and suggesting the pictures' release was possibly a dirty trick engineered by an opponent, still went on to lose the race.
Have a tip we should know? tips@mediaite.com