Bannon Group Reportedly Shopped Document During 2016 GOP Primary Alleging Trump Had Mob Ties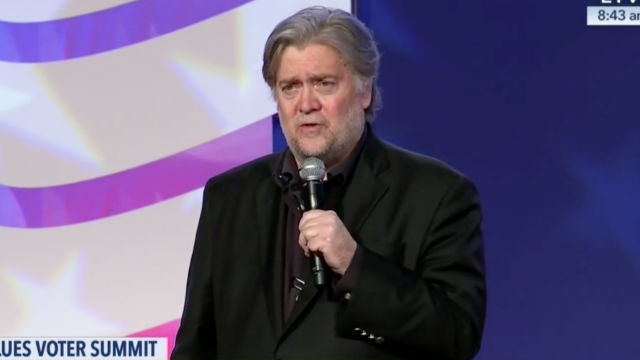 It looks like the Bannon opposition research dump is in full effect.
According to CNN, a conservative group led by former White House chief strategist Steve Bannon attempted to discredit Donald Trump during the early days of the 2016 GOP presidential primary. In doing so, the group shopped an opposition research document that alleged that Trump had ties to organized crime figures. CNN has obtained a copy of the document, which was first reported on by the New York Times on Friday.
Per both CNN and NYT, the author of the oppo research doc was Clinton Cash author Peter Schweizer. The work was done for the Government Accountability Institute, a group Schweizer cofounded with Bannon back in 2012. The document claimed that Trump had business connections with mobsters for years.
The group was funded by the Mercer family, who has recently pulled back their financial backing of Bannon. When Schweizer finished the doc in 2015, the Mercers were supporting Sen. Ted Cruz (R-TX) for president. In the early months of 2016, Cruz brought up Trump's potential relationships with mob figures as a reason why Trump should release his tax returns.
Since Bannon's provocative quotes from Michael Wolff's controversial Trump tell-all have surfaced, the president has been on the warpath against the Breitbart chief. Trump released a statement claiming Bannon has "lost his mind," has labeled Bannon with the nickname "Sloppy Steve," and has pressed his allies to choose between Bannon or him.
For his part, Bannon issued a pseudo-apology for his remarks, specifically calling Donald Trump Jr. a "patriot and good man" in response to describing Don Jr's 2016 Trump Tower Russian meeting "treasonous." It appears, however, that it is too little, too late for Trump, who has told his supporters to go out on TV and "bury Steve." Since then, White House officials have made statements absolutely excoriating Bannon.
[image via screengrab]
—
Follow Justin Baragona on Twitter: @justinbaragona
Have a tip we should know? tips@mediaite.com