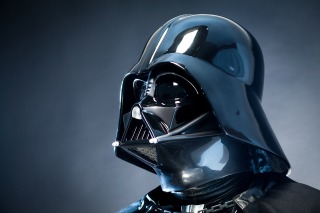 Sometimes the need to find someone with over-the-top opinions to fill airtime leads to falling for the inevitable hoax.
BBC World Service learned that lesson last Friday when they invited "student Godfrey Elfwick" on World Have Your Say to elaborate upon his social media "outrage" over the "racism" and "homophobia" of the Star Wars series.

This tweet from Elfwick, blasting the series' supposed negative use of racial stereotypes, grabbed the attention of a BBC producer looking for guests:
I've never actually seen #StarWars but the fact that the bad guy was all black and ate watermelons was unbelievably racist even for the 70's

— Godfrey Elfwick (@GodfreyElfwick) April 17, 2015
Despite his account clearly being tongue-in-cheek (The Telegraph points out his Twitter bio: "Demisexual genderqueer Muslim atheist"), Elfwick was invited on the live radio show to give his hot take.
"From what I've seen of the old Star Wars films, there's a lot of social problems with them rooted in homophobia, casual racial stereotypes," he said, later explaining how Darth Vader was problematic: "The main bad guy – what's he called, Dark Raider? – is black, he has a deep voice, he listens to rap music – it's just a really bad racial stereotype."
Other complaints: "The only main female ends up in a space bikini chained to a horny space slug," he said, referring to Princess Leia and her capture by Jabba the Hutt.
After the hoax had been revealed, BBC was quick to fess up, Telegraph reported:
A BBC spokesman said: "On this occasion, the Force was not with us.

"The guest presented himself as a 20-year-old who's never seen Star Wars, and we put him on air under that pretence.

"WHYS producers always do their best to check guests in a live programme that invites global discussion from listeners."

[The show's producer, Angela] Sheeran has deleted her tweet inviting Elfwick on to the show.
Listen below, via Telegraph:
[Image via Shutterstock.com]
— —
Have a tip we should know? tips@mediaite.com