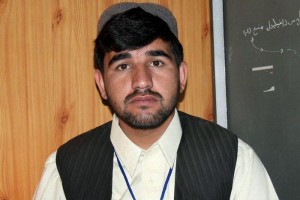 According to the Guardian, NATO has come forward in claiming responsibility for the death of BBC journalist Omaid Khpalwak. The 25-year-old Afghan stringer was one of 22 killed earlier this summer in an attack on the government buildings where he worked in Afghanistan's southern Uruzgan province. The Taliban claimed responsibility for the attack and subsequent battle with NATO security forces, but Khpalwak's family has long felt that it was western bullets that took down Omaid. Some closure came yesterday when Nato forces met with the family and offered condolences for their grave mistake.
Omaid's older brother, Jawid, was in contact with him that day. According to Jawid, Omaid hoped to find safety from entering Taliban by hidding in the bathroom. "Death is approaching," he told his brother through text. And then, a few minutes later, "If I die, pray for me."
The terms of Khpalwak's death sound brutal — shot 11 times when he came out of hiding relived to see NATO forces. Why he was a target remains a unexplained. According to his older brother, he spoke english and carried a press card. "They thought he was a suicide bomber, but how?" NATO reports say they are confident that soldiers "complied with the laws of armed conflict and rules of engagement and acted reasonably under the circumstances."
This tragic episode is indicative of the increasing dangers Afghans face, working alongside foreign forces and just in general. Journalists working locally often find themselves stuck between the two sides. "People are threatening me and my family," Jawid told the Guardian. "All 10 of us are very scared of staying in Uruzgan because of this." Omaid's work had earned him the attention of many, including the warlord Matiullah Khan.
Khpalwak is certainly not the first journalist to be taken as collateral damage, and his death once more makes clear the incredible dangers journalists face when reporting in a war zone.
Have a tip we should know? tips@mediaite.com