Beck Gleefully Mocks Capitol Car Chase Coverage: 'Breaking News of the Unarmed Black Mother…'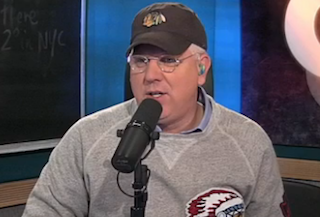 On his radio show Friday, Glenn Beck took on the role of "mainstream media" reporter to mock how he believes the press really wanted to cover yesterday's car chase in Washington, D.C. that ended with police fatally shooting the unarmed, 34-year-old African-American woman Miriam Carey.
"Breaking news," Beck began, "of the unarmed mother, the unarmed mother who was shot and killed by the brave men and women of the Capitol Police that are not being paid because of the racist hatemongering, Republicans, Ted Cruz."
"We'd like to tell you that this was some right-wing extremist, but no, instead it was a woman who was suffering from a medical condition. We'd like to be able to tell you that it was a medical condition that she couldn't get healthcare for, but she had ?? she had all that going for her," Beck continued. "She was a black woman, and the police just gunned her down in the streets. Of course, we shouldn't probably harp on that because…well…it doesn't fit into the story lines that we like to tell."
"If she were white, we'd be pounding, just pounding another white right-wing extremist, somebody probably who hated the president," Beck added. "But this one loved the president. In fact, loved the president so much, she thought the president was stalking her…"
It went on like that for several more minutes, with his fellow co-hosts jumping in, with extra emphasis on the fact that she was "unarmed" and "black" with all of the blame being heaped on "damned-able Republicans."
The source material for Beck's parody appeared to be comments from cable news anchors, like MSNBC's Rachel Maddow, who pointed out in her report last night that the Capitol Police and Secret Service agents on the scene may not be receiving paychecks if the government shutdown continues.
Watch video below, via TheBlaze:
[h/t TheBlaze]
[photo via screengrab]
— —
>> Follow Matt Wilstein (@TheMattWilstein) on Twitter
Have a tip we should know? tips@mediaite.com