Beck: 'Sickens Me' That Christians Are Standing by Trump Given His 'Piggish Behavior'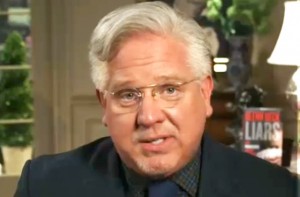 Glenn Beck went on a lengthy Facebook rant the night before the debate this weekend in response to Christian conservatives standing by Donald Trump after that lewd audio came out.
He declared, "It sickens me to read the posts from 'conservative Christians'. The very same people who lectured the left about Bill Clinton. I thought character mattered. Does it still? Or is that just for [D]emocrats?"
And as far as he's concerned, people who have professed for years to have principled moral values can't suddenly go "but Hillary!" after all the things Trump has said and done.
And then came this hot fire:
You are lying if you claim you would approve him for your child's principle.

You would never accept him in a position that had him overseeing anything to do with your daughters. He is a man that when asked if they could refer to his daughter as a"nice piece of ass" he responded, "of course, she is a nice piece of ass."

If your wife came home and told you that he boss treated women this way, calling the Hispanic in the office as "Miss Housekeeping" or was known to have a long history of hitting on married women", you would not like her working for him. I doubt you could go to the Christmas party.

But if you were okay with it and supported him for a massive promotion, people would say that you are either cut from the same character cloth or you were just supporting him because your wife may get a promotion or more money.

Your children would see through it, however, would always remember your actions and I believe would vow to never be like you when they grew up. They would deem you a sell out.
Beck asked why these same Christian conservatives were disgusted by Anthony Weiner and demanded his resignation when, as Beck pointed out, the same things they're using to defend Trump could equally apply to Weiner if they wanted.
And like many others on the right, Beck just wants to focus on conservative principles in Congress for the next month:
We know how to fight the Clinton Machine. We can unite on that. We can stop her. Yes, it will be "terrible times", but we will survive and if we stand together and stand behind what we all know in our heart is right spiritually we can be on the side of God.
Accept the consequences of years of wrong choices, fight only for those causes that are righteous and have nothing to do with those who are not.

The bar is not that high. We are all sinners yes, but this is an exceptionally disturbing man.

Let us be worthy of the freedom we cherish.
You can read the whole thing here:
Have a tip we should know? tips@mediaite.com
Josh Feldman - Senior Editor