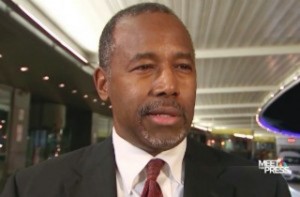 Ben Carson is the single greatest Donald Trump surrogate of this election cycle. Not because he's so gung-ho about Trump, but for the exact opposite reason.
He said he wished he could've endorsed someone else, said Trump's supporters can't be reasoned with, defended Trump's abortion flip-flop by saying he wasn't warned about the question ahead of time, admitted he has "major defects," and defended Trump's campaign manager by accusing a CNN anchor of committing a crime.
And now he's at it again.
Carson spoke with Denver radio host Krista Kafer last week, and in the clip obtained by BuzzFeed, the former GOP candidate said his support of Trump is based in pragmatism, explaining, "Tn terms of who can potentially win, I think that would be Donald Trump. When I look at the consequences of not winning, it's too horrible to even think about."
Carson once again argued that none of the GOP's candidates, even Trump would be as bad as Hillary Clinton, and even if they are, they wouldn't be in office that long anyway.
Kafer said she can't bring herself to vote for Trump because he's a "bad" person. Carson actually responded, "Who among us isn't?"
Carson insisted he would probably be in that same camp too were the future of the country was not at stake. No, seriously, he said "if it was just me," he'd be opposed to Trump, but "for me, it's about the children and the grandchildren."
[h/t TPM]
[image via screengrab]
— —
Follow Josh Feldman on Twitter: @feldmaniac
This is an opinion piece. The views expressed in this article are those of just the author.
Josh Feldman - Senior Editor