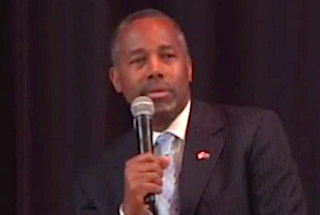 It has now been close to two months since Dr. Ben Carson, who has a big announcement coming on Monday, said he was going to stop publicly talking about gay rights. "I'm just not going to fall for that anymore," he told Sean Hannity in March after saying prisons prove that sexual orientation is a choice.
But since then, he has shared his opinions about Indiana's "religious freedom" law with Breitbart News and returned to CNN's New Day to revisit the issue with Chris Cuomo.
Now, in new video that has emerged from a speech Carson gave to South Carolina Republicans earlier this month, he can be seen tackling the gay rights issue once more, this time comparing himself to Jesus Christ in the process.
"Some people think that I hate gay people, that I'm a homophobe; I'm not," Carson said in comments captured by Right Wing Watch. "Jesus Christ was not a homophobe. Jesus Christ loved everybody regardless of their lifestyle but he offered them other ways to do things. It's a free country, people can do what they want to do, but they don't get to change the definition of marriage, which is between one man and one woman."
Carson proceeded to call on Congress to exercise its "right to rein in judges who don't abide by the will of the people," adding, "what we the people have got to do is insist that Congress carry out their duties." However, he also pointed out that that oversight does not apply to the Supreme Court, which could make same-sex marriage legal nationwide by the end of June.
Watch video below, via RWW:
[Photo via screengrab]
— —
>> Follow Matt Wilstein (@TheMattWilstein) on Twitter
Have a tip we should know? tips@mediaite.com