Ben Carson: National Review Just 'Political Tool' Opponents Use to Attack Me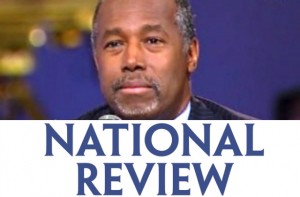 In an interview with SiriusXM's Breitbart News Daily, Republican presidential candidate Ben Carson dismissed a critical story from conservative magazine National Review, calling it a "political tool" used by his primary opponents.
Back in January, National Review editor Jim Geraghty wrote a story pointing out Carson's questionable endorsement of Mannatech, a pseudo-scientific supplement company that's been sued by the government for falsely advertising that its products cure autism and cancer. Mannatech later became a flashpoint in the CNBC presidential debate after moderator Carlos Quintanilla asked Carson about the company.
After Carson denied any relationship with Mannatech, Geraghty wrote a rebuttal. "His declarations that 'I didn't have an involvement with them' and 'absurd to say that I had any kind of relationship with them' are just bald-faced lies," he argued.
But Carson hit back when asked about the story by Breitbart's Stephen Bannon: "…[This] magazine calls you a 'bald-faced liar' — do you think they single you out for special, brutal treatment?"
"Well, they're concerned about — that obviously comes from someone on that debate stage," Carson said. "That's a submarine that's sent by them. They're very concerned about me, and they're using National Review as their political tool. That's pretty obvious."
"So you believe that information that leaked or used, or was somehow put in by another campaign and given to National Review to be weaponized?" Bannon asked.
"Absolutely," Carson replied.
Geraghty responded quickly in a blog post:
No campaign contacted me about Carsons' work for Mannatech. I first heard about Carson doing endorsements for a supplement company in November of last year. My podcast co-host Mickey White had heard about Ben Carson and his endorsement of dietary supplements from a widow at a fundraising event for the Massey Cancer Center in Richmond, Va. (My understanding is that the parents of the widow's late husband wanted him to use the company's products.) A bit of Googling revealed Carson's video for the company.
[Image via screengrab/National Review]
——
>>Follow Alex Griswold (@HashtagGriswold) on Twitter
Have a tip we should know? tips@mediaite.com