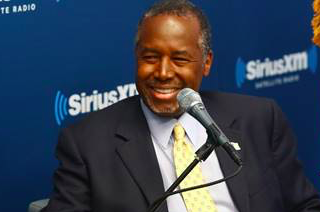 On Tuesday morning, Republican presidential candidate Ben Carson said this to Fox & Friends when asked how he would have reacted had he been present when a gunman opened fire at Umpqua Community College in Oregon last week: "Not only would I probably not cooperate with him, I would not just stand there and let him shoot me. I would say, 'Hey guys, everybody attack him. He may shoot me, but he can't get us all.'"
One day later, Carson had a story to share with SiriusXM "Urban View" host Karen Hunter about an incident 30 years ago in which he was held up at gunpoint in a Popeyes restaurant in Baltimore.
"I have had a gun held on me when I was in a Popeyes organization," Carson told the host. "Guy comes in, put the gun in my ribs. And I just said, 'I believe that you want the guy behind the counter.'"
In this case, Carson said he opted not to rush the gunman, as he previously suggested he would, but instead pointed him in the direction of someone else. In subsequent interviews, Carson has said that was because he knew the man was there to rob the store and not to shoot it up.
Listen to audio below, via SiriusXM:
Naturally, reporters were eager to find out more details about the decades-old incident, pressing the Baltimore Police Department to verify Carson's story if possible. In response, the BPD tweeted Thursday:
Based on the information that #BenCarson mentioned, there was not enough info to identify a police report in reference to the incident.

— Baltimore Police (@BaltimorePolice) October 8, 2015
The tweet referencing the #BenCarson report is in reference to multiple media request. Date and location would assist in locating report.

— Baltimore Police (@BaltimorePolice) October 8, 2015
Then, during another SiriusXM interview on Friday, this time with "POTUS" host Jared Rizzi, Carson defended his story from suggestions, by The Daily Beast and others, that it was in some way fabricated or exaggerated.
"I don't know," Carson said when asked if he would provide any more information that could help people pin down exactly where and when the incident occurred. "To me it wasn't that big of deal, to be honest with you."
"Really, what you're saying is 'are you lying about that? Is that something that you're making up?' And why would I be doing that?" Carson asked. "As a God-fearing Christian, it's something that happened. It's not something I made up."
Listen to audio below, via SiriusXM:
Without any more information from Carson, the story is almost impossible to verify. But given the discrepancy between his imagined reaction to a mass shooting and the way he says he behaved in that Popeyes so many years ago, it seems counterintuitive that he would invent such a non-heroic story.
[Photo via SiriusXM]
— —
>> Follow Matt Wilstein (@TheMattWilstein) on Twitter
Have a tip we should know? tips@mediaite.com