Ben Sasse's Mea Culpa to Maher N-Word Flap: 'Cringing Last Night Wasn't Good Enough'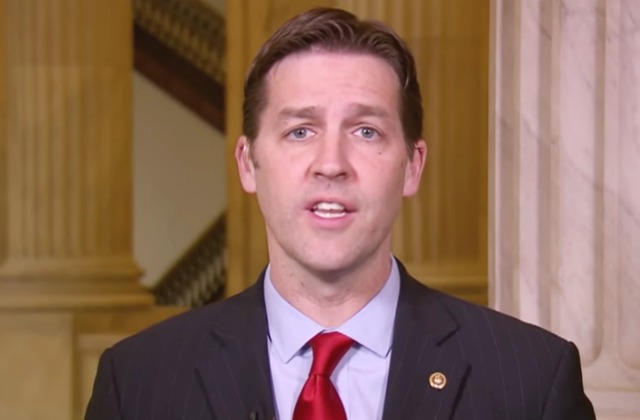 Mea culpa is a Latin phrase. It means "through my fault" and is generally seen as a public or formal acknowledgment of committing an error or being at personal fault.
Last night, Bill Maher immediately triggered the outrage machine when he said he was a "house nigga" while interviewing Sen. Ben Sasse (R-NE). This was in response to Sasse asking Maher if he'd like to work in the fields. The audience reacted with a mix of shock and nervous laughter. Meanwhile, social media lit up with reaction to Maher's use of the N-word.
Well, early this morning, after departing a flight back from Los Angeles, Sasse took to Twitter to issue a mea culpa for his part in the whole exchange. (Sasse has taken heat for smiling and not pushing back after Maher used the word.)
Am walking off a redeye from LAX.
3 reflections on @billmaher
1. I'm a 1st Amendment absolutist. Comedians get latitude to cross hard lines.

— Ben Sasse (@BenSasse) June 3, 2017
2. But free speech comes with a responsibility to speak up when folks use that word. Me just cringing last night wasn't good enough.
(2of4?) https://t.co/e4Bw8s8tV2

— Ben Sasse (@BenSasse) June 3, 2017
3. Here's what I wish I'd been quick enough to say in the moment: "Hold up, why would you think it's OK to use that word?…
(3of4?) https://t.co/mQL6wMEd7W

— Ben Sasse (@BenSasse) June 3, 2017
(4of4)
"…The history of the n-word is an attack on universal human dignity. It's therefore an attack on the American Creed. Don't use it." https://t.co/kEZm5vPFHK

— Ben Sasse (@BenSasse) June 3, 2017
As you can see above, Sasse is looking at the issue through a few different lenses. One, he believes in free speech and feels comedians especially should be given "latitude to cross hard lines." At the same time, he feels he should have spoken out and objected immediately when Maher used the word, even if it was in a mocking and joking manner, asking Maher why he thought it was OK to use it considering the history behind the word.
[image via screengrab]
—
Follow Justin Baragona on Twitter: @justinbaragona
Have a tip we should know? tips@mediaite.com