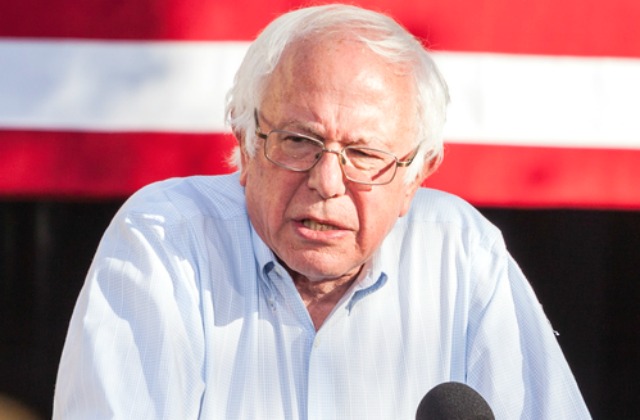 To anyone not living in the alternate Clinton-ite universe, a new Fox News poll showing Bernie Sanders as the most popular American politician is not surprising.
According to the poll, the Vermont Senator had the highest favorables among Democratic voters — much to the chagrin of MSNBC's Joy Reid, whose go to is, "But he's not even a Democrat!" — and independent voters.
He's also tied with Senate Minority Leader Chuck Schumer as most popular among Republican voters, which really means Sanders is viewed most favorably since Schumer is, in many ways, a Republican in Democrats' clothing.
So, gee gosh, Jolly Jim! A progressive who sparked a monumental movement calling for the end of the 40-year Republican and neoliberal money-funneling-to-the-rich scheme, universal healthcare, free public college tuition, and investing in America is — wait for it — wildly popular.
But the Democratic establishment and elitist corporate media is stewing in denial, highlighted by The Washington Post's comical headline that couldn't bring itself to actually say Sanders is the most popular politician in America: "Bernie Sanders remains one of America's most popular politicians," the Post wrote.
In a Twitter exchange with this humble columnist, the author, Washington Post writer Phillip Bump, provided this weaksauce excuse:
@JordanChariton Trying holding your breath. Or show me a poll that includes every politician.

— Philip Bump (@pbump) March 17, 2017
Right, so the Washington Post and others routinely make declarations from polls that don't include all politicians or institutions—except if the poll is positive for Bernie Sanders.
On the bright side, at least the piece wasn't written by new Post columnist John Podesta, who, you know, was given column space for his incredible job as Hillary Clinton's campaign chairman, with duties including smearing Sanders, pushing a weak candidate, and losing to a reality-TV-star.
And it's not just the media. The Democratic Party has been doing everything humanly possible to avoid the inevitable fate of having to embrace Sanders' progressive policies for electoral success. Just look at the DNC Transition Advisory Committee: A Murderers' Row of Clinton allies with just one true-blue progressive on it. As DNC Chair Tom Perez kept saying: We'll lead with our values. And they certainly are.
Does Trump have questionable financial ties to Russia that could influence his decisions as president? Absolutely.
Is he doing monstrous things as president? Absolutely.
It's fine to point those things out and demand action. But, the Democrats are obsessing over them to the point of completely ignoring all other substantive, progressive issues.
The reason? If they admit Sanders and progressive ideology has taken over the Party — hell, the country — then they have to start pushing for policies that their donors won't accept: Tax hikes on the wealthy, tax hikes on investments, strengthening unions and worker protections, campaign finance reform, etc.
But, if they tread water with the singular focuses on Russia and the 'resistance,' Democrats will continue to toss occasional bones to Sanders without actually trying to embrace any of his policies. This Democratic denial, which is aided by the party's media allies in print and cable news, will go on for another few years.
Similar to during the campaign, we will hear endless ranting about Trump — along with other hyped up, Russia-type 'scandals' thrown in — with little focus on the plight of workers, minorities, or the voters Democrats say they're fighting for. All of which (despite trolls on Twitter who blame folks like me), points only to the Democratic Party helping to pave the road for a Trump reelection.
If they don't change now, don't be surprised if we get eight years of the current monstrosity.
[image via screengrab]
— —
Jordan Chariton is a Reporter for The Young Turks, covering politics, corruption, inequality, and social injustice. He's also a columnist for Mediaite, founder of Truth Against The Machine, and a former producer at MSNBC and Fox News. Follow him @JordanChariton.
— —
This is an opinion piece. The views expressed in this article are those of just the author.