#Betrayal: Twitter Announces That It Will Begin Letting Governments Censor Tweets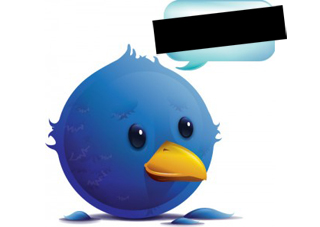 Much has been written in the past few days about concerns over Google's new privacy settings, with some even theorizing that this was the final nail in the coffin for the company's much hyped "don't be evil" policy. However, it now seems that another big tech company may be making an even bigger and more discomforting shift in policy. For the past few years, during the enormous uprisings and protests across the world, one of the main threads has been how essential Twitter has been to the proceedings. Well, we'll see if that continues now that the social media platform has announced that they will be giving governments the ability to "withhold" tweets from their citizens.
The announcement came in a in an official blog post entitled "Tweets still must flow," which is a reference to a post from almost exactly a year ago in which the company promised to "open exchange of information" and "strive not to remove Tweets on the basis of their content." It seems that things have slightly changed since then but, hey, as long as things are still flowing…
"As we continue to grow internationally, we will enter countries that have different ideas about the contours of freedom of expression. Some differ so much from our ideas that we will not be able to exist there. Others are similar but, for historical or cultural reasons, restrict certain types of content, such as France or Germany, which ban pro-Nazi content.

Until now, the only way we could take account of those countries' limits was to remove content globally. Starting today, we give ourselves the ability to reactively withhold content from users in a specific country — while keeping it available in the rest of the world. We have also built in a way to communicate transparently to users when content is withheld, and why."
Oh, they're only going to censor Nazi tweets. That's cool. After all, when they came for the Nazi Twitters I did nothing because screw Nazis, am I right?
Just like SOPA, it's not the stated concern that worries people here, it's the risk of someone completely taking advantage of it in the future. During the Middle East protests of recent years in places like Iran and Egypt, Twitter was one of the most powerful tools, not just for the people on the ground, but for those of us in the rest of the world to see what was going on. What are the chances that's going to be the case once dictators have the ability to shoot an email over to Twitter headquarters and snuff any sign of dissent out?
These protests have shown us that regimes are willing to shut off all Internet access entirely to silence social media sites, but this is even more insidious. When the Internet goes dark, people know that something's afoot. When just a few tweets go missing, who will notice? Sure, other countries can see the tweets (if they, y'know, know to look for them), but how can the movements of oppressed people even get started if we give their oppressors the ability to silence their best mode to conversing.
And these are just the extremes of protests and revolutions. What about the little things that some governments just don't like people talking about? Why is Twitter, an American company, helping them keep their people quiet?
Obviously, Twitter must have had its reasons for changing its policies and, as companies grow, they're going to have to make concessions. But this seems pretty bad and, as of yet, we don't like it. Not one bit.
(h/t Reuters)
Have a tip we should know? tips@mediaite.com