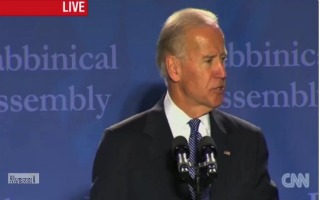 Vice President Joe Biden voiced a strong defense of the Obama administration's Iran policy on Tuesday to a group of Jewish supporters in Atlanta. He told the group that "we were the problem" when Obama took office in 2009, and today they have made progress. If by progress, he is referring to the appearance of a nascent understanding in the White House that their Iran policy has been an abject failure – then he is correct.

RELATED: VP Joe Biden: 'I Promise You Obama Has A Big Stick'
"When we took office, let me remind you, there was virtually no international pressure on Iran," said Biden who said this abject falsehood as though he had not served as ranking member and later chair of the Senate Foreign Relations Committee for more than a decade before becoming Vice President.
"We were the problem," Biden continued. "We were diplomatically isolated in the world, in the region, in Europe. The international pressure on Iran was stuck in neutral." Biden said that Iran's influence in the region had grown over the course of the Bush administration, but has been halted under the Obama administration.
"America's leadership was in doubt," Biden concluded. "We were neither fully respected by our friends or feared by our opponents. Today it is starkly different."
Biden seemed to signal in this speech an attempt to campaign as a hawkish administration – a steward of American interests abroad as well as at home. But this campaign strategy is nothing if not a stunning rebuke of the Obama administration's own policy that, until recently, was one the White House felt the need to defend.
There was a time when the Obama administration was proud of their outreach policy towards Iran. Shortly after his inauguration, President Obama himself made a video to the people of Iran on their holiday of Nowruz. In that video, he declared his commitment to dialogue and using diplomacy to overcome "old divisions."
In a press conference, Obama had called for "direct diplomacy" with Iran, highlighting the potential for "renewed exchanges" and "opportunities for partnership and commerce." In response, Trita Parsi, president of the National Iranian American Council said Obama's policy would lead to an end to "the destructive enmity that has existed for three decades."
In June, 2009, it was revealed that President Obama sent a letter directly to Iran's Supreme Leader Ayatollah Ali Khamenei in early May, just prior to the Islamic Republic's disputed presidential elections. The letter was publically confirmed by Khamenei as proof of U.S. duplicity – he believed the U.S. was behind rising anti-government protests in that country that arose after those elections.
"I've made it clear that the United States respects the sovereignty of the Islamic Republic of Iran and is not interfering with Iran's affairs," said Obama at the time of what became known as the doomed green revolution. "But we must also bear witness to the courage and the dignity of the Iranian people, and to a remarkable opening within Iranian society."
Tehran saw the opportunity afforded them by the Obama administration's weak response to the green revolution to make their nuclear intentions even clearer.
Have a tip we should know? [email protected]