Biden's Non-Apology Apology Video Gets Frosty Reception: Where's the 'I'm Sorry?'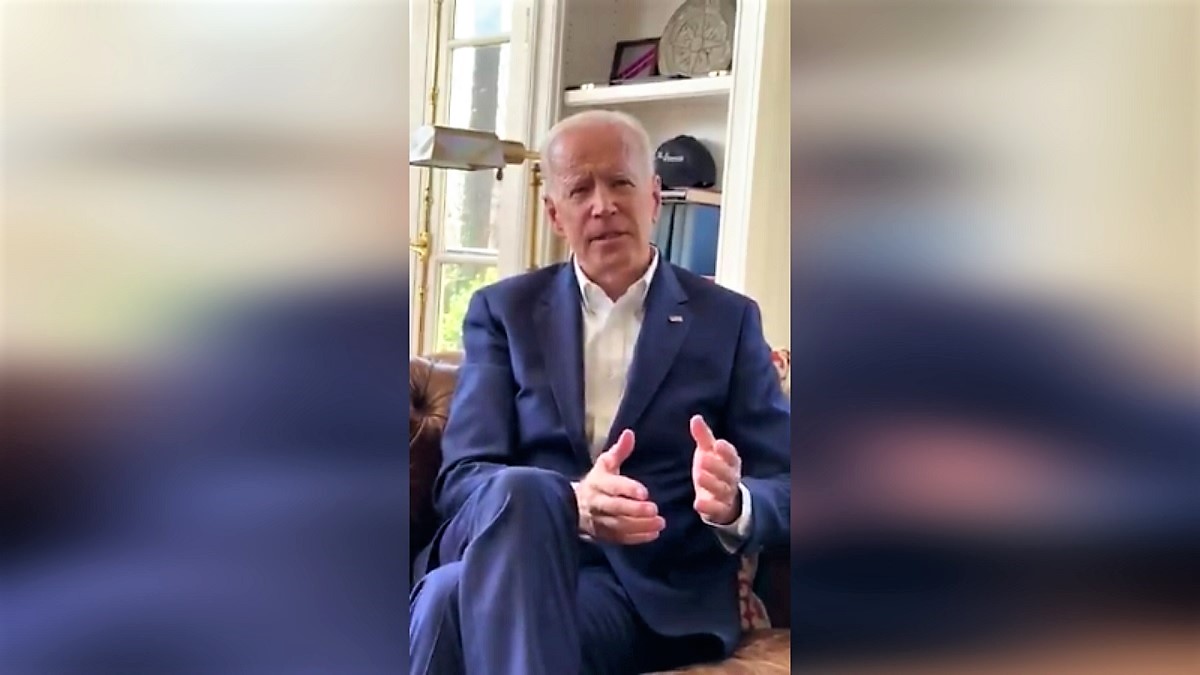 Nearly one week after former Nevada state assemblywoman Lucy Flores came forward to accuse former Vice President Joe Biden of inappropriate physical contact, the ex-Vice President has made his first videotaped comments on the matter.
In a clip posted to Twitter, Biden addressed the accusations by Flores, and an unnamed Connecticut woman by saying, "Social norms have begun to change, they've shifted. And the boundaries of protecting personal space have been reset, and I get it. I get it. I hear what they're saying. I understand. And I'll be much more mindful. That's my responsibility… and I'll meet it."
Biden, however, did not offer an apology. Observers on Twitter — who gave the video a frosty reception overall — unquestionably noticed.
He doesn't get it. And this issue is inseparable from his treatment of Anita Hill, which he has never apologized for. https://t.co/ure2e5Ixcl

— Richard Allen Smith, well regulated militant (@rockrichard) April 3, 2019
Biden goes 2 minutes, straight to camera. After issuing several tin-eared statements, Biden camp finally recognized the dangers of letting this controversy fester. https://t.co/sBLQzt34WP

— Charlie Mahtesian (@PoliticoCharlie) April 3, 2019
Should be noted that Biden doesn't actually apologize or admit he did anything wrong. Rather, he's saying that people are upset with him because society has changed and his actions were actually okay at a different time, they just aren't in fashion today. https://t.co/xxAJJQAXHw

— Nathan McDermott (@natemcdermott) April 3, 2019
I think this is pretty good overall. But I'm not sure it's a fully satisfactory explanation for some of his grabbiness — and I don't think I heard an apology to those he made feel uncomfortable. But undoubtedly an improvement upon written statements. https://t.co/M5qj1WcliT

— Guy Benson (@guypbenson) April 3, 2019
"I shake hands, I hug people, I grab men and women by the shoulders and say, 'You can do this.' Whether they're women, men, young, old, it's the way I've always been."

If you're a man & Joe Biden has ever smelled your hair/given you an awkward kiss, I'd love to talk. https://t.co/umNZPbUPLJ

— Paige Lavender (@paigelav) April 3, 2019
Did I miss the "sorry" or… ????? https://t.co/QsMznEe1vY

— Priyanka Aribindi (@priaribi) April 3, 2019
CTRL + F

"I'm sorry"

No results found. https://t.co/dI93aMecYg

— Matt Ortega (@MattOrtega) April 3, 2019
The one word missing from this two minute video: "sorry." https://t.co/T7ksRZCte1

— marisa kabas (@MarisaKabas) April 3, 2019
Something important missing here: "I'm sorry." https://t.co/ZaPiPQv6Sl

— Eric Holthaus (@EricHolthaus) April 3, 2019
This is an interesting video in that it doesn't appear to be scripted but is actually Biden saying what he believes.

But I find Biden's reluctance to apologize to women who say he's made them uncomfortable to be strange. https://t.co/ztXCbJT1Jw

— Judd Legum (@JuddLegum) April 3, 2019
Not heard in this video: "I'm sorry." https://t.co/3crDH9045a

— Marina Fang (@marinafang) April 3, 2019
a promise to change, but notably, no apology https://t.co/ff0lNmXfF2

— Alex Roarty (@Alex_Roarty) April 3, 2019
NOOOO. This minimizing is just making it worse. Just acknowledge that they were made uncomfortable! https://t.co/ZjRs91eLHQ

— natalie g (@nataliereports) April 3, 2019
"I promise to be less creepy" is one way to set up a campaign for president. https://t.co/dCxj17GdwW

— Stephen Gutowski (@StephenGutowski) April 3, 2019
This follows the pattern of what Biden has said about crime bill and Anita Hill. A regretful tone but an avoidance of admitting direct fault https://t.co/QjBbMGZzK5

— Steadman™ (@AsteadWesley) April 3, 2019
Have a tip we should know? tips@mediaite.com
Joe DePaolo - Senior Editor