Bill Clinton: GOP's Doubting Of Climate Change Makes U.S. 'Look Like A Joke'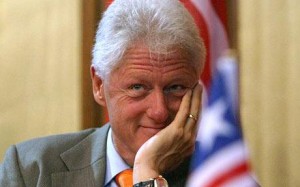 Former President Bill Clinton was not sympathetic in regarding the current crop of Republican presidential hopeful's opposition to acknowledging climate change. Speaking on the opening day of the Clinton Global Initiatives' seventh annual meeting in New York, he cautioned that the top contenders aversion to science is "patently absurd" and becoming a liability. "I mean, it makes us — we look like a joke, right?" he said.
Leading Republican candidates, Jon Hunstman aside, have for the most come out against that idea that human action has been responsible for warming the planet; an idea that has, for the most part, been substantiated by scientists and held up by public concern. Rick Perry has gotten around the issue by suggesting that scientists have manipulated data, while Michele Bachmann has said she believes that climate change is a hoax. This sort of skepticism has become something of a GOP flag this campaign cycle.
According to Politico's report, Clinton was not critical of their stance so much as we was as the lack of debate it allows for. He urged that climate change and science need not be black and white issue it has become:
"We need the debate in America and every country between people who are a little bit to the right and people who are a little bit to the left about what the best way is to reduce our greenhouse gas emissions, what is the best, most economical way to do it, what will get more done quicker."
Clinton asked voters to do their part in rendering the extreme take on climate politically inviable. "You can't win the nomination of one of the major parties in the country if you admit that the scientists are right? That disqualifies you from doing it?" he said. "You could really help us there." Politics, neither, needs to be the will-you-or-won't-you game it's become, he seemed to be saying.
Have a tip we should know? tips@mediaite.com