Bill Clinton: If Barbra Streisand Was In Congress, Would Be On My 'Just Say Yes' List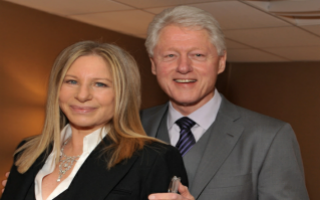 Former President Bill Clinton appeared at a Malibu fundraiser on Thursday night with Hollywood icon Barbra Streisand to raise funds for female cardiovascular research and the Barbra Streisand Women's Heart Center at Cedars-Sinai Medical Center. There, Clinton heaped praise on the celebrity icon and said that, if Streisand was in Congress and he were still president, she would be on Clinton's "just say yes" list.

RELATED: Charles Krauthammer On Bill Clinton: 'Loose Cannon? He's A Double Agent'
Clinton told the crowd that he was happy to appear at this event for a cause that he said required addressing. "When Barbra called me about this (fundraising project) and give me all the basic numbers, I realized that nobody had done anything about this since 2000. I was just crazed."
According to a report in The Hollywood Reporter, Clinton went on to praise Streisand's doggedness in pursuit of this cause and said, if Streisand were a member of Congress, she would be on his "just say yes" list. Clinton explained that, if he did not say yes to Streisand, she would simply hound him until he did – or make an end run around him.
If (Barbra) were a member of congress and I were still president, she would be on what I called our "Just Say Yes" list. We had a very small list of congressmen, literally, fewer than 10 people, that when they call you (and ask for something) just go ahead and tell them, 'yes,' because you're gonna sooner or later. They're like a dog with a bone; they won't let you go. They'll make your life miserable. So, just go ahead and tell them yes and save all the time.
Clinton thanked Streisand for "all those crazy telephone conversations we had over two decades saying, 'did you know this or that…'then she was outraged over something else."
"I never thought anyone could care a lot about more things than I care a lot about," Clinton concluded. "She makes me look like a heartless, dumb piker."
Streisand thanked Clinton for his support and asked the fundraiser crowd, "Wouldn't you just vote for him again today? I miss you."
"So, it seems, do a lot of people in Hollywood these days," the Hollywood Reporter concludes wistfully.
Follow Noah Rothman on Twitter
Have a tip we should know? tips@mediaite.com