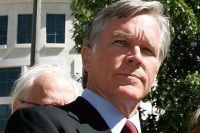 Today is the 'State of The Times' meeting, the annual New York Times get-together to which publisher Arthur Sulzberger Jr. sometimes brings props — he once famously produced a moose, perhaps this year he will go with the recently popularized chalkboard!
Hot topic this year is paid content. I seem to recall it being a hot topic last year, along with plummeting stock prices, however in the interim the paper has been making some fairly serious noises about what their paid content model might look like and hinting that it is not far off. But not imminent either!
The Observer caught up with managing editor Bill Keller, who is clearly a man hoping that if he puts off the unsavory paid content decision for just a leetle while longer there is a small chance some other solution will suddenly present itself and save the day!
"In the end, I think it will come down to a gut call about what we think the audience will accept and how we think the market will evolve…There's no clear evidence that a pay model will save newspapers from the flight of advertisers, it might, but that's a matter of faith; nothing in previous experience (including the experience of the Journal and FT) and nothing in the reams of spread sheets proves that it will."
All true. But it also sounds like the initial panic that followed the great newspaper collapse of the last 12 months has subsided and now become the norm. Perhaps the new theory is, better the bad system you know than the bad system you don't know! Either way Keller speculates now that a decision will be reached by the end of the year "if only so we can stop going to pay-model meetings." But really, what's the rush.
Have a tip we should know? tips@mediaite.com