Bill Murray Delivers Incredibly Persuasive Argument in Favor of Recreational Marijuana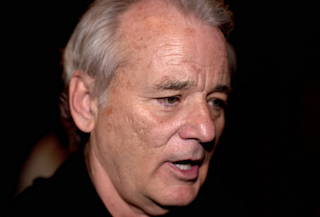 The always elusive Bill Murray participated in a Reddit AMA on Friday. He weighed in on a variety of topics, including what it was like to make Groundhog Day and the best sandwich he's ever eaten. But the most insightful part of Murray's Q&A session with fans probably came when someone asked him for his thoughts on recreational marijuana.
Here's his full response:
Well that's a large question, isn't it? Because you're talking about recreation, which everyone is in favor of. You are also talking about something that has been illegal for so many years, and marijuana is responsible for such a large part of the prison population, for the crime of self-medication. And it takes millions and billions of dollars by incarcerating people for this crime against oneself as best can be determined. People are realizing that the war on drugs is a failure, that the amount of money spent, you could have bought all the drugs with that much money rather than create this army of people and incarcerated people. I think the terror of marijuana was probably overstated. I don't think people are really concerned about it the way they once were. Now that we have crack and crystal and whatnot, people don't even think about marijuana anymore, it's like someone watching too many videogames in comparison. The fact that states are passing laws allowing it means that its threat has been over-exagerated. Psychologists recommend smoking marijuana rather than drinking if you are in a stressful situation. These are ancient remedies, alcohol and smoking, and they only started passing laws against them 100 years ago.
Murray also discussed the current cast of Saturday Night Live. While he said they are "good," he reserved higher praise for the "previous" cast, which he called "the best group since the original group," which included him, along with John Belushi, Gilda Radner, Dan Aykroyd and others. "The last group with Kristen Wiig and those characters, they were a bunch of actors and their stuff was just different," he said.
You can read the full AMA at Reddit.com.
[h/t Dave Itzkoff]
[photo via Flickr/Charlie Llewellin]
— —
>> Follow Matt Wilstein (@TheMattWilstein) on Twitter
Have a tip we should know? tips@mediaite.com