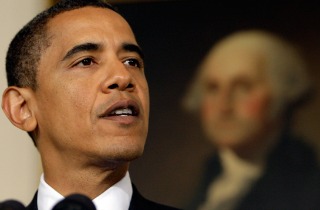 A group of President Obama's most ardent foes are still holding out hope that the inauguration ceremony won't proceed, just days before the event. Eldon Bell, a retired Air Force officer, is calling the inauguration "illegitimate" and says his decision to watch the ceremony "depends on who's being inaugurated."
Bell is not alone in believing that some court somewhere will make a last-ditch effort to prevent the ceremony, citing Obama's "overseas birth" or other imagined ineligibility as the cause. The Washington Post reports that more than 100 cases have been filed on the subject, and no judge yet has ruled against the president.
RELATED: Laura Ingraham Trashes Colin Powell: 'Liberalism Has Been An Utter Disaster For Black America'
"This inauguration is a mistake and those who permit it to happen will have to live with their own consciences," Bell says.
Rev. Clenard Childress says Obama was voted back into office so that Americans could "feel better about ourselves and get the guilt of racism off us." Childress says Obama is "very deep into an ideology that is not American."
"But what I really care about is do we have the same values? Do you believe in the sanctity of life? Do you believe in marriage as being between man and woman? And this president does not," Childress says.
He also says he told his congregation to gear up for a "nasty" fight and says "there will never be more contentiousness than in the next two years."
Cliff Kincaid, another opponent of the president, blames the GOP, as well: "The Republicans seem not to realize that Obama is a Marxist who wages class warfare and could not qualify for a sensitive government position based on his associates and his character."
Kevin Davidson runs a website which monitors conspiracy theories about the president. "Dr. Conspiracy," as he is known, says the rhetoric since the election has become "more vicious." He believed that the anti-Obama sentiment would die down after the election but says he's seen even more "openly racist" remarks since then.
Bill Bryan, owner of The Fogbow, a website which debunks anti-Obama movements, agrees and says "there's a certain world of people who move from one conspiracy theory to the next."
"Obama is perfect for them," he adds. "They just hate him so much, and the election won't end that. They really believe that one day soon, he'll be declared an illegal president and Obamacare will vanish with a poof and Sotomayor and Kagan will have to leave the Supreme Court."
"I got sucked into their vortex," Bryan adds, "but when I run into normal people, like waiters at a restaurant, only half of them have even heard of birthers, so I take comfort in that."
h/t WaPo
—
>> Follow Anjali Sareen (@AnjaliSareen) On Twitter
Have a tip we should know? tips@mediaite.com