'Obama Phone Lady' Is Back And She Sat Down For Bizarre Interview With Alex Jones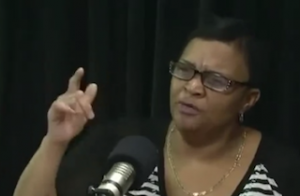 If there's one thing the "Obama Phone Lady" knows, it's that she will not be voting for President Obama in 2016.
That was just one of the revelations to come out of a sprawling interview Michelle Dowery recorded for Alex Jones' radio show this week. Dowery gained viral stardom back in September when a video of the Cleveland native protesting outside a Romney event hit the web.
Her infamous rant, which began with the assertion that "everybody in Cleveland got Obama phone," fueled a faux-conspiracy about the president trading cell phones for votes. In reality, the program to supply "low-income people with free or discounted phones" started under George W. Bush.
Dowery hasn't been heard from much since President Obama was re-elected, but in her interview with Jones she shared her own set of conspiracy theories about the police:
"Where I live at — and where I was at — the police here's running it. I've seen it with my own eyes…I just moved from Cleveland Heights to Cleveland. Cleveland, you can walk outside butt-naked. You go to Cleveland Heights, they going to arrest you, say you raped someone, because you're butt-naked. The police is running it all."
Technology:
"There was going to be people on the devices on the TV that can look through you and see where you're at. I believe that because now they got them things they put on kids' leg and they look through the TV."
FEMA:
"FEMA is the one that help you if you say that your flood is in the basement."
And not taking the flu shot:
"I got faith in God going to heal me."
Though Dowery did say that she's a still a supporter of President Obama (despite the fact that he can't run in 2016), there were virtually no issues on which she and Jones had any serious disagreement.
Watch the video below, via InfoWars:
And watch the original video that made Dowery famous last year:
(h/t The Blaze)
—
>> Follow Matt Wilstein (@TheMattWilstein) on Twitter
Have a tip we should know? tips@mediaite.com