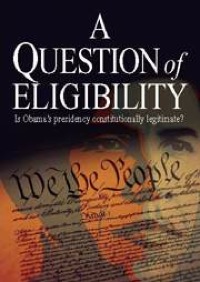 Some people will sit down and just watch "injustices" happen. Others will hop onto iMovie and try to profit out of arty-crafty slideshows of Barack Obama and Constitutional ClipArt. Others still will, for some reason, pay to watch these slideshows. If you belong to the latter group, then boy does WorldNetDaily have a deal for you!
Today's "Deal of the Day" on the radical right-wing site is on "the most controversial and politically incorrect video documentary in the country," A Question of Eligibility, a "documentary" that explores whether or not President Barack Obama was born in the United States:
"That's right. Your eyes are not deceiving you. Through this special offer, you can get 'A Question Of Eligibility: Is Obama's Presidency Constitutionally Legitimate?' at a huge discount, for only $4.95!"
The film includes testimony from such illustrious experts as California Secretary of State candidate Dr. Orly Taitz, JD, DMD, Esq., and politician Alan Keyes, who has run for every major federal-level office in America (and is also black, so take that, accusations of racism!). But the offer doesn't end there– if you buy this video today, you will receive three "sizzling" issues of "the world's best newsmagazine," Whistleblower, so you'll be able to read even more about how Barack Obama has a birth certificate, but it doesn't count, because it's not the "long-form" birth certificate that most states don't use anymore.
Yes, this video doesn't actually accuse Obama of not having a birth certificate but, rather, argues that the one that exists is a fraud hiding the truth about Obama's sinister pre-life past. In other words, they literally read off of Obama's birth certificate while alternately denying it's existence and validity. Cognitive dissonance doesn't even begin to explain it.
We know this, because the entire video World Net Daily is hoping you'll fork up $4.95 for (a bargain compared to their original $19.95 price) is up on YouTube, which sort of rains on this whole "SPECIAL ONE-DAY OFFER" parade. If you can stomach it, or just need a good laugh, here's a clip from the YouTube version of A Question of Eligibility below:

Have a tip we should know? tips@mediaite.com