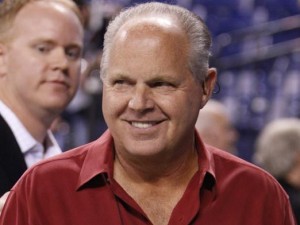 The gift table at Rush Lumbaugh's wedding this weekend is probably going to be topped with the usual suspects – a blender, six or seven toasters, maybe even a crock pot. Not wanting to have their present go unnoticed in the pile of kitchen appliances, the folks at Gawker decided to get a little unorthodox with their token of appreciation for Limbaugh's devoted friendship.
That's why they hired a plane to fly a personally customized banner along the Palm Beach coast and directly over his home during the ceremony. How thoughtful!
Staff writer Adrian Chen posted the details of the flyby on the website early this morning, giving commenters until noon today to submit their congratulatory slogans, the best of which will be chosen to serenade Limbaugh and his new wife Kathryn Rogers from the sky. They must be profanity-free, under 45 characters ("This is about 1/3 of a tweet"), and witty enough to be deserving of the ad space. Some of the heartfelt wishes in the running include the following:
Love – the ultimate time release drug
Oxycongratulatins for you and yours!
Glenn Beck approves this marriage
Though technically profanity free, most are a tad too colorful to repost. But with the deadline passed it's just a matter of time before we get to see the lucky winner. I wonder, what Rush will put in the thank you card?
Mazal tov!
(Check out all suggestions in the comment section here)
Have a tip we should know? tips@mediaite.com