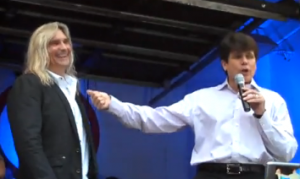 For the average unemployed American (one of every ten of us, at this point), finding a job is a rigid process. They build up resumes and try to sell themselves to the highest bidder using the best of their talents as bait. In fact, the last thing most jobless people give up on in their search is their own abilities and experiences. But former Illinois governor Rod Blagojevich is not your average jobless American, and he's on the prowl with a kitchen-sink approach to impressing potential bosses that has led him to dabble in everything from authoring books to impersonating Elvis to trying out for a bevy of celebrity reality TV shows (on Celebrity Apprentice, premiering in March).
It may not be the most advisable approach to disregard training and interests on the job hunt but, then again, Blagojevich has never been known for a traditional interpretation of appropriate professional behavior. This time, his exploits have led him to what could blossom into a career in sports journalism, winning a spot in Sports Illustrated's "Celebrity Picks for the Super Bowl." For those who care, here is the former governor's take on Sunday's game:
"The Colts' offense is better than the Saints' offense because they have the most valuable player in football, Peyton Manning… And the Colts' defense is better and faster than the Saints' defense. The only advantage the Saints have is on special teams, but that's not enough to overcome the advantage the Colts have on both offense and defense."
Blago's publicist, Glenn Selig, says the star of "Celebrity Apprentice," whose most recent press release is raising awareness for his appearance is Sports Illustrated's "Celebrity Picks for the Super Bowl," "does not consider himself to be a celebrity," but was happy to be asked about the Super Bowl because he loves sports and "knows what he's talking about." Because if there is one thing Blagojevich knows about, it's footballs.
Have a tip we should know? [email protected]