'Bless Her Heart': Nikki Haley Shrugs Off Coulter's Call to Put Confederate Flag Back Up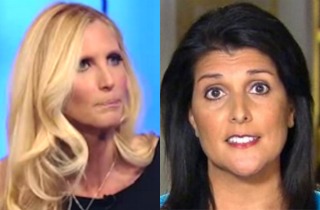 Governor Nikki Haley (R-SC) brushed off a swipe from Ann Coulter when she was asked about her mention in the conservative firebrand's recent column.
Haley was holding a press conference on Monday, in which she explained that she will support Donald Trump despite her reservations about the Republican nominee. Though Haley said that she's got a state to run and therefore can't be bothered to respond to every Trump controversy, she was asked about Coulter's jab at her in a column defending Trump's attacks on Khizr Khan.
Coulter has trashed both the gold-star father and the South Carolina governor before, and in her piece, she attacked Haley for her decision to take down the Confederate Flag after last year's racially-motivated church shooting in Charleston.
wistv.com – Columbia, South Carolina
"Southerners accounted for 38 percent of those killed in Iraq and 47 percent in Afghanistan. What has South Carolina Gov. Nikki Haley 'sacrificed' compared to the families of these men? How about Nikki put their flag back up," Coulter asked. "The Confederate flag won't lead to thousands of dead and maimed Americans, as Muslim immigration does."
When asked for her thoughts about Coulter's slams, Haley offered the same retort she once gave Trump: "Bless her heart."
Haley used the rest of the presser to say that Trump is a better choice for America than Hillary Clinton, even if she deeply disapproves of the mogul's feud with the Khans, among other things.
Watch above, via Live 5 News.
[Image via screengrab]
— —
>> Follow Ken Meyer (@KenMeyer91) on Twitter
Have a tip we should know? tips@mediaite.com