BLM Protesters Blast Conservative Author's 'Bulls**t,' Plan To 'Shut Down' Next Event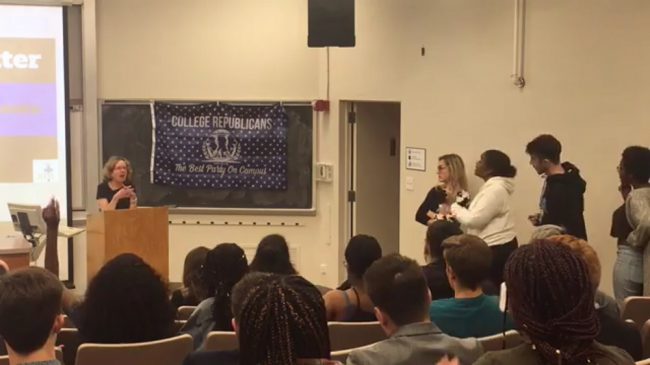 Liberal activists, including members of Black Lives Matter, disrupted a lecture by conservative author Heather MacDonald at UCLA on Wednesday. Left-wing allies of theirs at the nearby Claremont Colleges plan to "shut down" her planned event on Thursday.
The College Fix website detailed the UCLA protests in a Thursday post. The College Republicans at the California University sponsored the writer's speech as a "Blue Lives Matter" event, and it was broadcast via Facebook Live (see video below).
The protesters arrived halfway through MacDonald's lecture. A group stormed the area near the podium where the writer was standing and chanted, "Black lives — they matter here! Black lives, they matter here!"
MacDonald, who released the book "War on Cops" in 2016, then took questions from the audience. She sparred with one protester who wondered whether "black victims killed by cops" mattered.
Another demonstrator in the audience shouted, "You have no right to speak!"
MacDonald was reportedly escorted off campus at the end of the event.
The conservative author plans to speak at Claremont McKenna College on Thursday. The Claremont Independent publication covered the planned disruption of the event in a Thursday article. A Facebook event advertising the protest attacked MacDonald as an "anti-black fascist."
The organizers wildly claimed that she is "vocally against the Black Lives Matter movement and pro-police, both of which show her fascist ideologies and blatant anti-Blackness and white supremacy." They called on shutting down the event, in order to "prevent MacDonald from spewing her racist, anti-Black, capitalist, imperialist, fascist agenda."
[image via screengrab]
Have a tip we should know? tips@mediaite.com