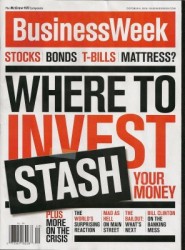 Jon Fine reports that financial information giant Bloomberg LLC has submitted a bid to acquire his own magazine, BusinessWeek, making Bloomberg the presumptive favorite in purchasing the troubled title.
As we reported last week, Bloomberg expressed interest in BusinessWeek late in the process, but was given extra time to perform due diligence.
Regarding the bid, Fine reported today:
After being given a few days' grace past the September 15 deadline for final bids for BusinessWeek, Bloomberg LP submitted its bid for the 80-year old business magazine, according to executives familiar with the situation.

A Bloomberg spokeswoman did not immediately respond to an email, but previously declined to comment on Bloomberg's interest, real or imagined, in a bid for BusinessWeek. A spokesman for BusinessWeek parent company McGraw-Hill declined to comment on the number or identity of final bidders, but said the company was "very pleased with the meaningful interest" displayed in BusinessWeek.

Other than Bloomberg, among the bidders—plural, as there are more than one—for BusinessWeek is OpenGate Capital, the private equity firm that owns TV Guide magazine.

A bid from Bloomberg is widely expected to make the business information giant the prohibitive favorite to purchase BusinessWeek.
Fine goes on to dig up a quote from a previous interview he'd conducted with Norm Pearlstine, the former Editor-in-Chief of Time Inc. and current Chief Content Officer of Bloomberg: "We're looking at potential acquisitions," sa[id] Pearlstine. "We're just sort of saying: 'Hey, we're looking for good ideas.'"
Fine seems to imply that the acquisition of BusinessWeek is a "good idea." Or is that just wishful thinking?
Have a tip we should know? tips@mediaite.com