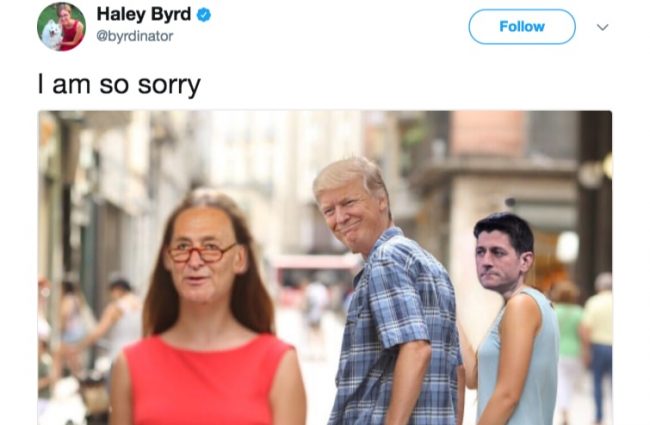 The latest episode of President Donald Trump brought a surprise twist last night when the real estate magnate-cum-leader of the free world decided to back a temporary Democratic government funding plan and buck his traditional GOP allies.
The move reportedly blind-sighted Paul Ryan and Mitch McConnell  
While the MAGAsphere largely fell into line behind Trump, asserting SEVEN-D CHESS, Blue Check Twitter was incredulous, parsing and offered various theories.
First up — New Yorker writer and prominent Scaramucci whisperer Ryan Lizza
A not insane theory of what happened today is that Trump is still mad at Ryan and McConnell and sided with Schumer and Pelosi to spite them.

— Ryan Lizza (@RyanLizza) September 6, 2017
And it went from there.
Big test for the Trump / Fox and Friends relationship tomorrow morning re: Schumer/Pelosi agreement. Who will blink first?

— pourmecoffee (@pourmecoffee) September 7, 2017
Latest buzz from Trump Train: "See, he made Schumer and Pelosi agree to his debt ceiling deal! #MAGA!"

The indoctrination is impenetrable.

— JD Rucker (@JDRucker) September 7, 2017
Trump aligns himself with Schumer and Pelosi on Congress authorizing DACA. "Chuck and Nancy would like to see something happen and so do I."

— Peter Baker (@peterbakernyt) September 6, 2017
Trump hadn't met with Schumer and Pelosi for months. After seeing them today, he quickly breaks with GOP leadership and sides with them.

— Matt Viser (@mviser) September 6, 2017
2 sentences from Trump's gaggle on AF1 that are extremely telling: he said "We had a very good meeting with Nancy Pelosi and Chuck Schumer."

— Jake Sherman (@JakeSherman) September 6, 2017
Statue of Liberty aficionado Jim Acosta called it "remarkable."
Remarkable Trump sided with Schumer/Pelosi on debt ceiling & CR given Pelosi and Schumer accused Trump of "cowardice" earlier today.

— Jim Acosta (@Acosta) September 6, 2017
LIVE VIDEO OF SCHUMER AND PELOSI REACTING TO TRUMP PANTSING GOP LEADERS pic.twitter.com/N1LugM4Bs4

— Oliver Willis (@owillis) September 6, 2017
I wonder how much Trump would accomplish if he just accepted Schumer/Pelosi offers: infrastructure, trade, Defense $, etc.

— Steven Dennis (@StevenTDennis) September 7, 2017
BUT THE WINNER OF THIS GAME?
This person.
I am so sorry pic.twitter.com/7Z7cD2d2Oa

— Haley Byrd (@byrdinator) September 6, 2017
[image via screengrab]
Have a tip we should know? tips@mediaite.com