'Body Shaming is Never Okay': Trump-Critic Amber Tamblyn Condemns Naked Statues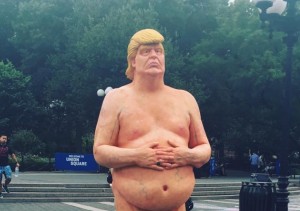 Two and a Half Men actress Amber Tamblyn might be open about her disapproval for Donald Trump, but she says that's no excuse for fellow critics to resort to slights on his appearance.
Five nude statues of the presidential candidate appeared across America last week, and they became instant online sensations as they were picked up by the media. Despite the widespread ridicule the statues inspired, some critics felt it showed a double standard for attacking a person's looks, and that there would have been a lot more outrage if the statues were made to mock Hillary Clinton instead.
"Body shaming is never OK, even when it comes to Trump," Tamblyn said on Facebook. She posted the words next to a picture of one of the Trumps statues after being covered with a sign saying "shame me for my behavior not my body."
Tamblyn went on to say that the statues only made the same "unoriginal" and "uncreative" point that artist Illma Gore made when she sketched an unflattering nude picture of Trump early this year. Gore's picture drew significant attention back in February, and according to The Hill, she was attacked near her house by a Trump supporter in retaliation for her work.
The street art collective known as INDECLINE took credit for the statues last week, when they also said they've got more sociopolitical commentary pieces in the works.
Tamblyn's post is below:
"Body shaming is never okay, even when it comes to trump. These statues aren't art: They are a lazy, unoriginal concept, stolen mind you, from Ilma Gore's painting which already made this exact same point earlier this year. This is wholly unoriginal and uncreative."
[Image via screengrab]
— —
>> Follow Ken Meyer (@KenMeyer91) on Twitter
Have a tip we should know? tips@mediaite.com