Boston Mayor Vows To Block Anti-Gay Fast Food Chain Chick-Fil-A From Opening In City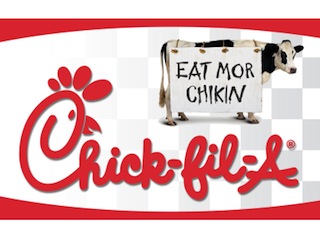 Although other, more important news will clearly overshadow it today, the controversy over restaurant chain Chick-fil-A's homophobic policies continues to grow. In case you forgot, the Dan Cathy, CEO of the chain (which by the way, has given millions of dollars to anti-gay groups over the years) did a couple interviews in which he confirmed Chick-fil-A's adherence to "biblical principles" and denounced same-sex marriage as "inviting God's judgment on our nation." Because, hey, who doesn't love their chicken seasoned with delicious, unrepentant bigotry. Anyway, some people haven't taken kindly to all of Chick-fil-A's actions. One of these people is Boston Mayor Thomas M. Menino.
RELATED: Forget Homophobic Chick-Fil-A! Nick Kroll Has Found The Best New Bigoted Chicken Spot: Chikk-Klub!
A storefront is apparently opening up near Boston's famed Freedom Trail and Chick-fil-A is apparently looking to snatch it up so as to further preach their lightly salted, crunchy gospel. Unfortunately for them, Menino has vowed to make it (*written to be read with a cartoonish Boston accent*) wicked haaaard for those queeeaar-haters to paaark their caaaaar in the yaaaaard. Metaphorically speaking.
From the Boston Herald:
"'Chick-fil-A doesn't belong in Boston. You can't have a business in the city of Boston that discriminates against a population. We're an open city, we're a city that's at the forefront of inclusion,' Menino told the Herald yesterday.

'That's the Freedom Trail. That's where it all started right here. And we're not going to have a company, Chick-fil-A or whatever the hell the name is, on our Freedom Trail.'"
Menino went on to declare that he would send a letter to the company as well as make it difficult for them to obtain any necessary licenses.
As of yet, it is unclear what Chick-fil-A did to anger the Lord and invite such harsh judgement down upon them.
(h/t Meghan O'Keefe)
Have a tip we should know? tips@mediaite.com