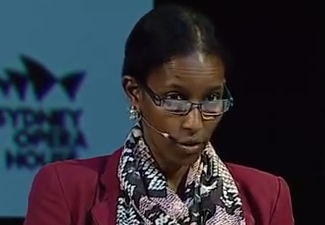 Ayaan Hirsi Ali is a very outspoken critic of Islam, especially the treatment of women in the Islamic religion. Brandeis University had planned to award Hirsi Ali an honorary degree, but rescinded that announcement today, saying "We cannot overlook that certain of her past statements are inconsistent with Brandeis University's core values."
The announcement Hirsi Ali would be honored was met with intense online backlash. Over 6000 people signed a Change.org petition to get Brandeis to rescind the honorary degree. The Council on American-Islamic Relations condemned the honor and said, "We believe offering such an award to a promoter of religious prejudice such as Ali is equivalent to promoting the work of white supremacists and anti-Semites."
Both the petition and the CAIR statement cite an interview Hirsi Ali did with Reason back in 2007 in which she said that it's not just radical Islam she opposes, it's "Islam, period." She elaborated, "I think that we are at war with Islam. And there's no middle ground in wars."
After the Brandeis announcement came out, Hirsi Ali released a statement railing against the university for not living up to principles of religious freedom.
"The 'spirit of free expression' referred to in the Brandeis statement has been stifled here, as my critics have achieved their objective of preventing me from addressing the graduating Class of 2014. Neither Brandeis nor my critics knew or even inquired as to what I might say. They simply wanted me to be silenced. I regret that very much.

"Not content with a public disavowal, Brandeis has invited me 'to join us on campus in the future to engage in a dialogue about these important issues.' Sadly, in words and deeds, the university has already spoken its piece. I have no wish to 'engage' in such one-sided dialogue. I can only wish the Class of 2014 the best of luck—and hope that they will go forth to be better advocates for free expression and free thought than their alma mater."
You can read her full statement here.
[h/t FoxNews.com]
[photo via screengrab]
— —
Follow Josh Feldman on Twitter: @feldmaniac
Have a tip we should know? tips@mediaite.com
Josh Feldman - Senior Editor