The U.S. Navy reported Monday morning that a gunman is loose in the Naval Sea Systems Command Headquarters building (Bldg. 197) at the U.S. Navy Yard in Washington, D.C. The shooting began at 8:20, on a base employing 3,000 personnel.
Via the Navy's press release:
There is one confirmed injury. Emergency personnel are on scene and a "shelter in place" order has been issued for Navy Yard personnel.
Early and unconfirmed news reports said one gunman with a shotgun had opened fire, wounding several people: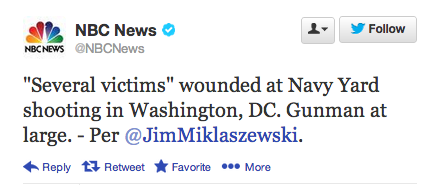 UPDATE 9:26 a.m.: The Washington Post is now reporting that one officer has been shot, and at least two victims have been recovered from inside the building. The gunman is believed to have barricaded himself in a room within the building, though this is not confirmed.
One Congressional staffer tweeted this photo: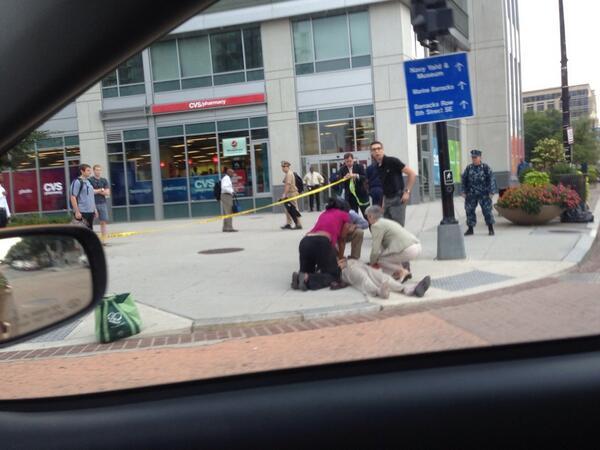 UPDATE 10:06 a.m.: Unconfirmed reports from NBC's DC affiliates now say ten people have been wounded.
President Barack Obama has been briefed on the situation, and the White House has released the following statement, via Zeke Miller:

UPDATE 10:20 a.m.: The Washington Post now has unconfirmed reports that police are searching for three shooters, one of whom is down, and two of whom remain in the building:
Three shooters are involved in the Navy Yard shooting, a police spokeswoman said.

One of the shooters is "down," police said, but two remain in a building on the grounds.

One of the shooters at large is dressed in fatigues. At least one has a long gun, police said.
UPDATE 11:06 a.m.: Authorities will hold a press conference at 11:10.
UPDATE 11:27 a.m.: Multiple news agencies are now reporting that a Navy Yard spokesman has said two shooters are "down," the second potentially in a second building. Via CBS' Washington D.C. affiliate:
Obama is set to make remarks about the incident before noon. His scheduled remarks later today have not been cancelled.
More photos: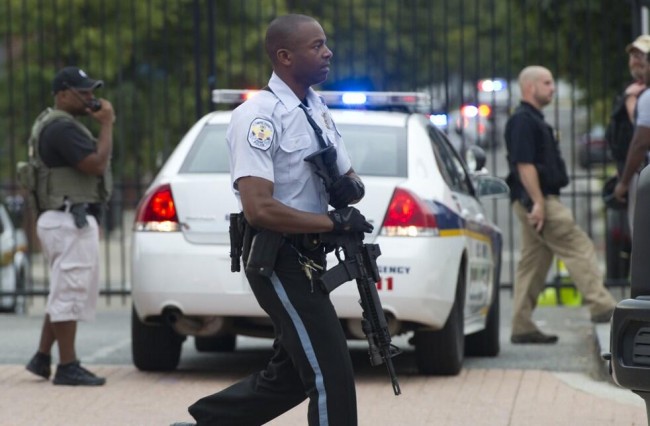 (via)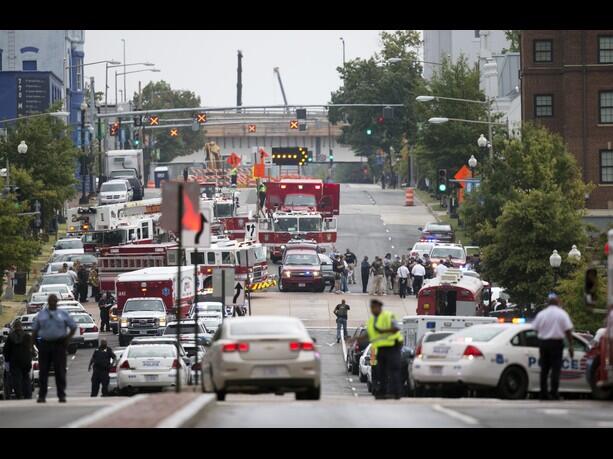 (via)
UPDATE 11:40 a.m.: The AP is reporting that one gunman is dead:

UPDATE 11:59 a.m.: First unconfirmed details about the shooter; whether the shooter acted alone or with others is still unknown:

UPDATE 12:05 p.m.: AP and CBS reporting at least six dead.
UPDATE 12:19 p.m.: At a press conference, Washington D.C. Police Chief Cathy Lanier said that police were "potentially" on the lookout for two more shooters, though she cautioned this was "not confirmed." Lanier describe the possible two suspects, a white man in a khaki, military-style uniform and a beret, last seen around 8:35 a.m. with a handgun, and one black man around 50 years old with a long gun, dressed in an olive military-style uniform. Lanier cautioned that these men were not necessarily military personnel.
UPDATE 2:07 p.m.: Washington D.C. Mayor Vincent Gray confirming twelve dead. He added that the motive behind the shooting remained unknown, and was not able to add any information about the possibility of additional shooters.
UPDATE 2:47 p.m.: D.C. Police say the white male suspect cited by authorities earlier has been identified and is no longer a suspect: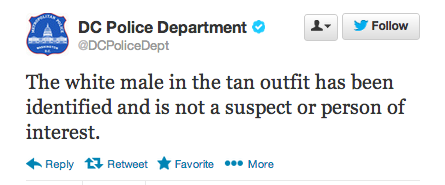 UPDATE 2:50 p.m.: NBC's Pete Williams identified the deceased shooter as Aaron Alexis, 34, of Fort Worth, Texas. Video here.
——
>> Follow Evan McMurry (@evanmcmurry) on Twitter
Have a tip we should know? tips@mediaite.com