NY Times Obtains Full Deposition of Cosby Detailing Sexual Encounters with Women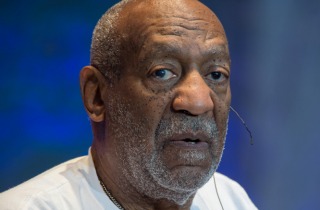 The New York Times tonight revealed that it uncovered Bill Cosby's full 2005 deposition, in which he opened up about his encounters with women, less than two weeks after court documents were made public.
The Times describes Cosby as "alternately annoyed, mocking, occasionally charming and sometimes boastful, often blithely describing sexual encounters in graphic detail."
And one of the things Cosby made clear was "I am a man, the only way you will hear about who I had sex with is from the person I had it with."
But he also went into some detail about his relationship with multiple women, including Andrea Constand, the former director of operations for Temple University's women's basketball team, whose suit against Cosby led to this deposition.
Cosby said during one intimate moment between them, "I take her hair and I pull it back and I have her face like this… And I talked to her about relaxing, being strong. And I said to her, come in, meaning her body."
He claimed that he gave her Benadryl to relieve stress, right before they kissed and had sexual contact, but her lawyer said in the deposition they believe he used a more powerful drug.
This is what he said he observed from Constand after one of their encounters, as reasoning for why he believed it was consensual:
I walk her out. She does not look angry. She does not say to me, don't ever do that again. She doesn't walk out with an attitude of a huff, because I think that I'm a pretty decent reader of people and their emotions in these romantic sexual things, whatever you want to call them.
There was also this exchange between Cosby and Constand's lawyer when discussing Beth Ferrier, another one of the women with serious allegations against Cosby:
Q. She says that she stayed with you and that you began talking about her career and asking about her father who had died of cancer. Does any of that ring a bell with you?

A. Yes.

Q. Do you remember talking about that?

A. Yes.

Q. Do you remember what else you talked about?

A. That's enough.

Q. Did you ask her those questions because you wanted to have sexual contact with her?

A. Yes.
As for the Quaaludes he admitted to obtaining, Cosby said he used them "the same as a person would say have a drink," and that "Quaaludes happen to be the drug that kids, young people were using to party with and there were times when I wanted to have them just in case."
You can read the full Times report here and here.
[image via Randy Miramontez/Shutterstock]
— —
Follow Josh Feldman on Twitter: @feldmaniac
Have a tip we should know? tips@mediaite.com
Josh Feldman - Senior Editor