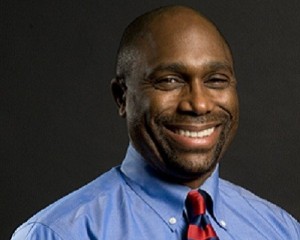 Just over a week ago, Politico suspended White House correspondent Joe Williams over remarks he made, in his role as a television commentator for the site, regarding Republican presidential candidate Mitt Romney's level of comfort with the "white folks" on Fox and Friends. Saturday morning, in an internal email to Politico staff, Editor in Chief Jonathan Harris announced they had "mutually decided" to part ways.
Joe Williams was suspended by Politico following outraged reaction from the conservative blog Breitbart.com, ironically just days after Williams copped to the mainstream media's capitulation to right-wing noise, which he then identified as a determining factor in his suspension. Williams' situation was subsequently complicated by The Daily Caller's publication of several of Mr. Williams' tweets that were critical of Politico.
Although Joe Williams told Mediaite that he hoped to remain with Politico, according to an internal email obtained by Mediaite, Editor in Chief John Harris describes the decision to part ways as a mutual one:
From: John Harris
Sent: Saturday, June 30, 2012 06:27 AM
To: TP-Edit
Subject: A note on Joe Williams

After some cordial discussions, Joe Williams and I mutually decided that the best step for him is to begin a transition to the next phase of his career. Joe is an experienced and respected journalist, with keen insights into politics. After nearly 30 years in the business, he has the authority and is ready to give voice to his insights and conclusions in a new setting.

He'll be on leave of absence during this transition, and he's got my gratitude for the contributions he made here, both as reporter and editor. I have told Joe—and it's a sentiment others who worked closely with him here share—that he'll have my support as he prepares for what I expect will be a good and prominent next chapter in his career.

John
In an email statement to Mediaite, Joe Williams had this to say:
While I'm disappointed at the circumstances of my departure, I'm grateful to John Harris for giving me an opportunity to work with him at Politico.
Williams' departure raises questions about the ability of journalists to deliver commentary under certain circumstances, particularly black journalists. According to Williams' Politico bio, the intersection of race and politics was his job, yet it appears that he was given very little latitude to perform it.
Have a tip we should know? tips@mediaite.com