BREAKING: Small Plane Crashes Near Teterboro Airport in New Jersey, Two People Dead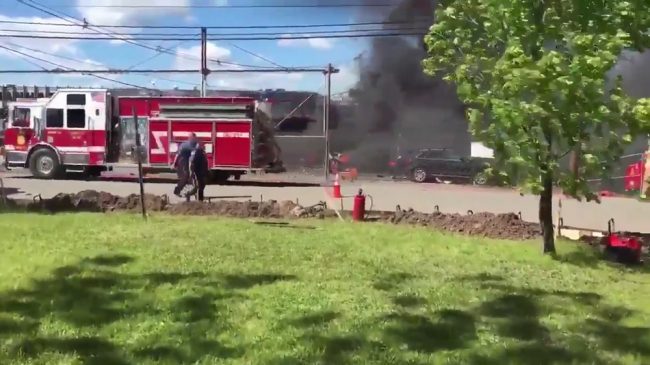 A small plane crashed on Monday just outside of Teterboro Airport in northern New Jersey just outside of New York City. Thick black smoke rose from the crash site, which is in an industrial area just outside of the aircraft facility.
The jet wasn't carrying any passengers, though the two crew members on board died in the crash. The resulting explosion caused multiple cars and nearby buildings to catch fire, and NBC states that Teterboro Airport was closed shortly after the incident.
The FAA has already issued a statement on the crash:
Preliminary information from the FAA: Learjet 35 crashed on landing at Teterboro. (via @prodjay) https://t.co/cQdBZdbDq2

— Bradd Jaffy (@BraddJaffy) May 15, 2017
MORE: FAA: A Learjet 35 coming in from Philadelphia crashed on approach to runway at Teterboro Airport; FAA is enroute to the scene. pic.twitter.com/VP9lwUdLW3

— ABC News (@ABC) May 15, 2017
The airport issued a ground stop in the immediate aftermath of the crash, according a Tweet by ABC's Dan Linden.
Teterboro Airport in New Jersey issues ground stop amid reports of plane crash nearby. pic.twitter.com/IzV7KTlXOU

— Dan Linden (@DanLinden) May 15, 2017
Steve Case, the co-founder of AOL, posted an Instagram photo of the smoke rising in the distance.
Plane just crashed trying to land at Teterboro Airport in NJ. Missed runway and landed in… https://t.co/SQRkf8DI2e

— Steve Case (@SteveCase) May 15, 2017
Other Twitter users posted their own photos and footage of the crash:
Plane crash @NBCNewYork @ABC7 pic.twitter.com/lVIdU2lFfK

— Godwin (@GodwinClassic33) May 15, 2017
@NJerzyFireAlert Siting on runway. Please pray for these people pic.twitter.com/1haw0VVCq1

— Marcus Lemonis (@marcuslemonis) May 15, 2017
A small plane has crashed near Teterboro Airport in NJ, Carlstadt Police confirm; multiple buildings on fire. Huge black cloud of smoke. pic.twitter.com/SV7SV6A6QT

— Bradd Jaffy (@BraddJaffy) May 15, 2017
[image via screengrab]
Have a tip we should know? tips@mediaite.com